Ethiopia Business Operations Strategy 2020 – 2025
The Business Operations Strategy (BOS) is a results-based framework that focuses on joint business operations with the purpose of eliminating duplication, leveraging the common bargaining power of the UN and maximizing economies of scale.
In line with the Secretary-General's UN reform targets Ethiopia has designed a BOS in support of a more effective programme delivery on the 2030 Agenda. This BOS was developed through the BOS online platform on 1 July 2020. It will go through an annual monitoring phase and is set to be reviewed on 1 July 2021.
The BOS focuses on common services that are implemented jointly or delivered by one UN entity on behalf of one or more other UN entities. Common services for future collaboration were identified in the areas of Common Administration services and including common Facilities/Premises, Common Procurement services, Common Finance services, Common ICT services, Common Logistics services, Common Human Resources services. The following UN Agencies are participating in the Ethiopia BOS: FAO, IFAD, ILO, IOM, ITC, ITU, OHCHR, UNAIDS, UNCDF, UNCTAD, UNDP, UNEP, UNESCO, UNFPA, UNHABITAT, UNHCR, UNICEF, UNIDO, UNOCHA, UNODC, UNOPS, UNV, UN WOMEN, WFP, WMO, WHO.
Dr. Catherine SOZI, the Resident and Humanitarian Coordinator, is accountable to the Secretary-General for the development, implementation, monitoring and reporting of the BOS and steps towards a common back office. The UNCT provides overall oversight of the BOS process, approval and release of necessary agency and joint resources, sign off of the final BOS and annual reporting. The Operations Management Team (chaired by Abisola ALAKA, George OGBORO and Ida JALLOW) and its subsidiary bodies are responsible to facilitate development and implementation of the BOS at the country level. The Development Coordination Office (DCO) is responsible for coordination, guidance and support to UNCTs and RCs on the BOS.
Design and layout by Nina Tabinaeva, Information Management Specialist at UN RCO Ethiopia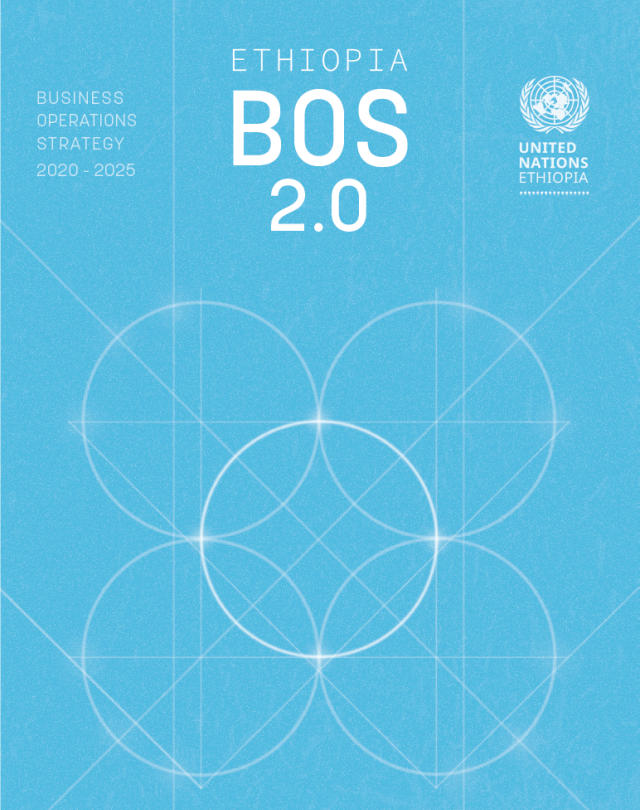 Goals we are supporting through this initiative