Story
Climate smart agriculture empowering women in rural areas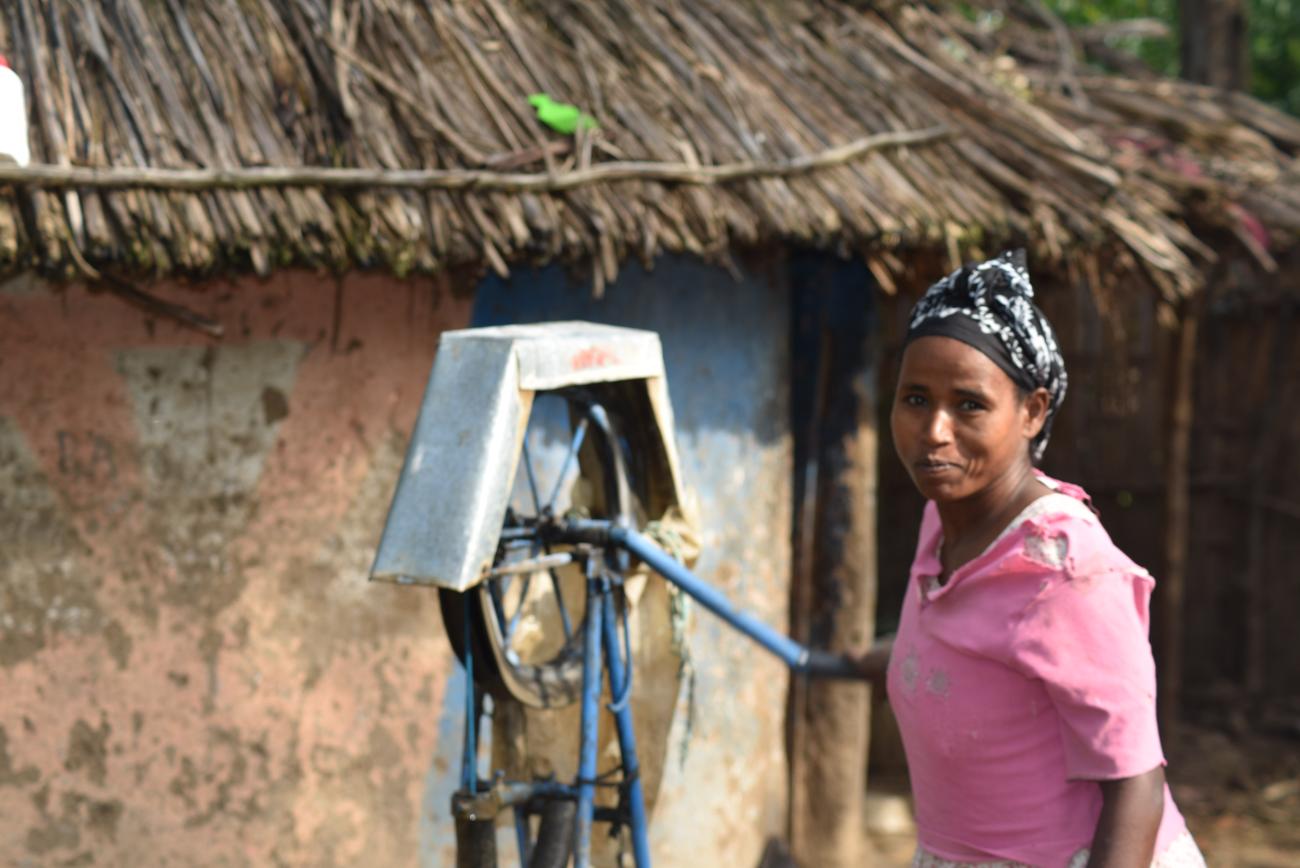 It was 7:30 am, but for Talakua, a 40-year-old woman and her family members, the day has already started.
They were busy working on their backyard 400m2 plot of land.
Talakua lives in Dugda, District of Oromia region.
About 15 years ago, Talakua's husband Tagese, who used to earn a living working as a daily laborer got sick. The task of feeding the family since then has fallen on her shoulder. With her new role as a breadwinner to the family, she started producing pepper seedlings in the family's farm . But the income generated from this activity could not to cover the medical bills and that forced the family to transfer part its land to other farmers in return for money. Talakua also tried to produce marketable products using the family's backyard, but the income she got was not was insufficient for the family.
While struggling to meet ends, Talakua became one of the beneficiaries of the new Gender Transformative Climate Smart Agriculture and Agri–Business (CSAAB) Project in her locality. The project works to achieve integrated and inclusive economic empowerment of rural women/female youths in Ethiopia. The project is being piloted by UN Women and SOS Sahel Ethiopia in Oromia Region.
"Now, with the support of the Project, I am getting 450 birr per a seedbed and managing 51 seedbeds that cover my entire backyard. I also produce four times a year to make sure there are always seedlings to sell whenever a buyer comes," Talakua said.
She also noted that the project changed the traditional way of fetching water from the well that takes several hours to Rope and Washer Irrigation technology. This means watering plants is much easier and takes less than an hour. "I have now much time for other household chores and business activities," Talakua said.
CSAAB project has provided drought resistant and early maturing seed varieties, including beetroots, carrots, local cabbage, and onions with training on Basic Business Skill (BBS) as well as regular technical support by grassroots project staff and government extension workers. The support also includes six grafted/improved mango seedlings which can mature in two years.
As a result of the trainings she received from the project, Talakua also discussed with her husband who recovered from his illness, about issues that help improve their relationship and the wellbeing of the family, including sharing responsibilities and decision making on household matters. She has also a plan to rebuild her house, rent additional land for expanding her business and add more cattle.
Given the success we are seeing from this work, Talakua said, "Nuffii hin qabnu" which in her local language (Afan Oromo) means "We don't get bored of this work."
UN entities involved in this initiative
UN Women
United Nations Entity for Gender Equality and the Empowerment of Women
Goals we are supporting through this initiative