International Peace Day commemorated  
The International Peace Day was marked under the theme of "Climate Action for Peace" at the UN Conference Center in Addis Ababa.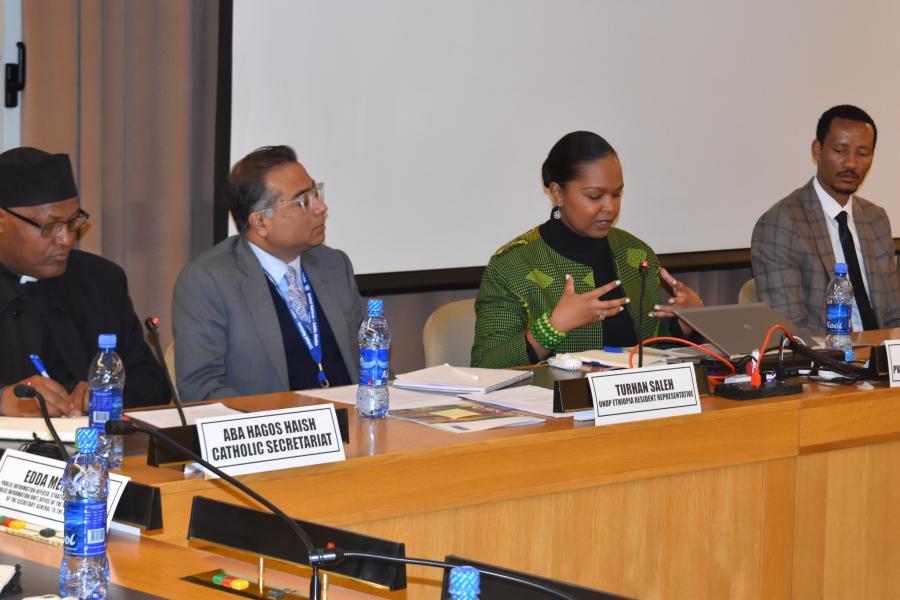 Photo | Getachew Dibaba UN Ethiopia
The event jointly organized by the Ministry of Peace and the United Nations brought together representatives of local and international institutions, the civil society, academia, religious institutions and other partners.
Speaking on behalf of HE Muferait Kamil, Minister of Peace, Mr. Minassie Fisseha, Advisor to the Minister, expressed Ethiopia's renewed commitments to local, regional and international peace and enhance its participation in peace keeping operations in the continent.
"This year, we have many reasons to celebrate the International Day of Peace, including the heralding of a new era in Ethiopian politics towards a democratic transformation, pioneered by our Prime Minister H.E. Dr. Abiy Ahmed," said Mr. Minassie.
In his remarks delivered at the event on behalf of Mr. Aeneas Chuma, UN Resident and Humanitarian Coordinator, Mr. Turhan Saleh, UNDP Resident Representative, said 'Climate Action for Peace' brings a clear message: the global climate emergency is a threat to security and stability. Ethiopia like all nations, is affected by climate change.
"In a context of a growing population, degraded land, water and forest resources, extreme weather events, and more frequent and severe disasters, it is possible to imagine increasing disputes over dwindling resources fuelling climate-related conflict," says Mr. Saleh.
"Many people may be forced to move from their homes as well, as the environment becomes too hostile to support life and livelihoods.  This, in turn, could trigger significant instability both within and across borders.
UN Secretary-General António Guterres once said 'nature does not negotiate' and emphasized four key measures that Governments should prioritize in order to reach carbon neutrality by 2050: tax pollution, not people; stop subsidizing fossil fuels; stop building new coal plants by 2020; focus on a green economy, not a grey economy. 
The event also marks the day when the United Nations is convening a Climate Action Summit to urge all nations to come up with ambitious plans to implement the Paris Agreement.
The Summit will focus on the heart of the problem – the sectors that create the most emissions and the areas where building resilience could make the biggest difference – as well as provide leaders and partners the opportunity to demonstrate both their commitment and their ambition.
UN entities involved in this initiative
UNDP
United Nations Development Programme
UNEP
United Nations Environment Programme
UN Women
United Nations Entity for Gender Equality and the Empowerment of Women