UN Career Fair attracts more than 1000 young graduates
More than 1000 young graduates took part in the UN Career Fair which was aimed to provide a learning and information sharing platform for the youth.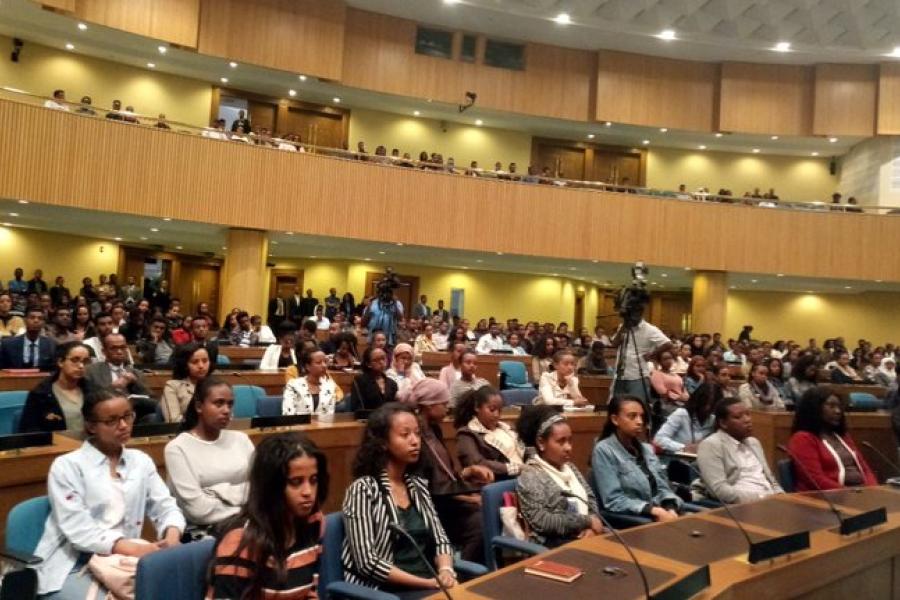 The Career Fair organized by the United Nations in Ethiopia held at the United Nations Conference Centre in UN Economic Commission for Africa (UNECA) yesterday.
The event served as a platform for bringing together UN officials and Human Resources Professionals from more than 20 UN agencies and young graduates from more than 30 universities and colleges to discuss the opportunities for developing skills, knowledge and behaviours that will make young graduates competitive for a productive and decent work. 
In his opening address, UN Resident and Humanitarian Coordinator, Mr. Aeneas Chuma, said, "The United Nations has also a Youth Strategy which aims to facilitate increased impact and expanded global, regional and country-level action to address the needs, build the agency and advance the rights of young people in all their diversity around the world."
"One of the key priorities of the strategy is to support young people's greater access to decent work and productive employment. This would be realized by supporting governments and partners to create youth enabling employment and self-employment ecosystems and develop and operationalize strategies that prioritize the improvement of both the quantity and quality of jobs for young people," he added.
UN entities involved in this initiative
OHCHR
Office of the United Nations High Commissioner for Human Rights
OCHA
United Nations Office for the Coordination of Humanitarian Affairs
UNDP
United Nations Development Programme
UN ECA
United Nations Economic Commission for Africa
UNCTAD
United Nations Conference on Trade and Development
FAO
Food and Agriculture Organization of the United Nations
IFAD
International Fund for Agricultural Development
UN-Habitat
United Nations Human Settlements Programme
ILO
International Labor Organization
IOM
International Organization for Migration
ITU
International Telecommunications Union
WHO
World Health Organization
UNEP
United Nations Environment Programme
UN Women
United Nations Entity for Gender Equality and the Empowerment of Women
UNIDO
United Nations Industrial Development Organization
UNAIDS
Joint United Nations Programme on HIV/AIDS
UNCDF
United Nations Capital Development Fund
UNESCO
United Nations Educational, Scientific and Cultural Organization
UNFPA
United Nations Population Fund
UNHCR
United Nations High Commissioner for Refugees
UNICEF
United Nations Children's Fund
UNODC
United Nations Office on Drugs and Crime
UNOPS
United Nations Office for Project Services
UNV
United Nations Volunteers
Goals we are supporting through this initiative