Memorial service held in honour of UN, NGO personnel lost in plane crash
A memorial service was held in honour of 33 United Nations and non-governmental organizations personnel who lost their lives in Ethiopian Airlines plane crash.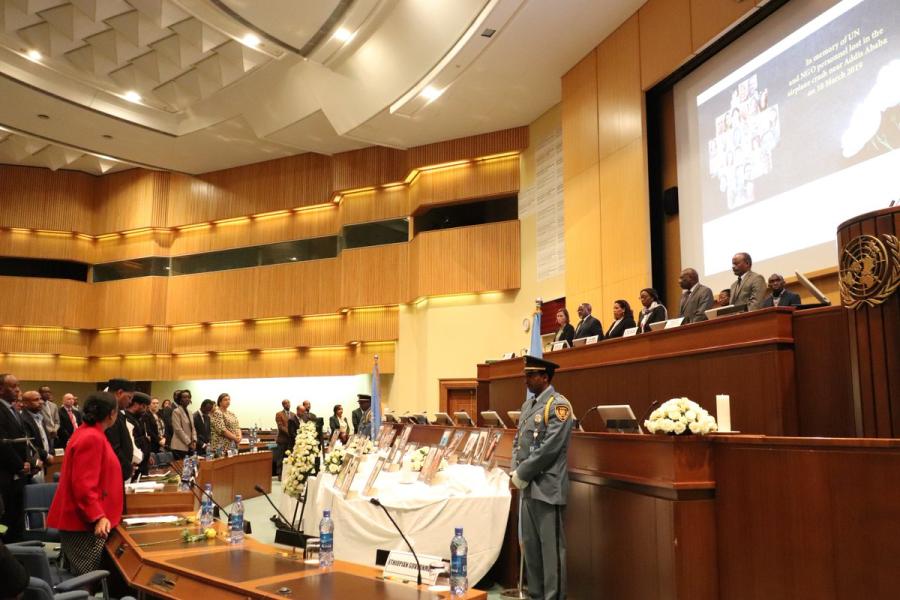 Photo | Getachew Dibaba UN Ethiopia
Families, airline staff, government representatives, diplomats and others joined UN and non-governmental organizations personnel as they mourned the loss of their colleagues and also celebrated their selfless work serving Africa and the world.
Religious leaders offered prayers after a minute of silence has been observed.
ECA Executive Secretary, Vera Songwe, said the 33 (21 UN and 12 NGO) came from 11 UN agencies, 12 NGOs and represented 17 countries.
"They all had one thing in common - a spirit to serve the people of Africa and the world and to make a difference in the lives of the people that we serve. It is truly tragic that anyone should perish doing such good and essential work," she said.
"Today we come together to honour their memory and pay tribute to their service, courage and sacrifices. As we mourn our lost colleagues, let us keep their spirit of service alive and let us join together in solidarity as one United Nations, committed to serve Africa better and the greater good of humanity."
The United Nations Resident and Humanitarian Coordinator in Ethiopia, Aeneas Chuma, comforted the families and colleagues saying the UN shared "your pain, agony, shock and bewilderment at what happened exactly a month ago."
"We feel the loss as friends and colleagues of those that have departed. As we mourn, which we must, because it is right to do so, we must also recognize and celebrate the priviledge of having known and worked with our lost colleagues. We honour and cherish their lives and their work on earth, and the blessing of having been with them in different ways and circumstances even though for a short time," said Chuma
Ethiopia's Foreign Affairs Minister Permanent Secretary, Ambassador Mahlet Hailu, offered her government's "deepest condolences and comfort" to families, friends and colleagues of the deceased.
"The tragic accident is one of the darkest moments of our aviation industry," she said, adding Ethiopia was grateful for all the support and sympathies that have come from far and wide following the crash.
Ethiopian Airlines Vice President responsible for Customer Service, Michael Yared, said results of the ongoing investigation into the crash should be out in the next six months, adding insurance payments were currently being made.
"I offer my heartfelt condolences to the loved ones of the deceased," he said.
The African Union Commission's Deputy Chairperson, Ambassador Kwesi Quartey; a representative of the Norwegian Refugee Council, and the United Nations Staff Union also spoke at the service.
UN entities involved in this initiative
OHCHR
Office of the United Nations High Commissioner for Human Rights
OCHA
United Nations Office for the Coordination of Humanitarian Affairs
UNDP
United Nations Development Programme
UN ECA
United Nations Economic Commission for Africa
UNCTAD
United Nations Conference on Trade and Development
FAO
Food and Agriculture Organization of the United Nations
IFAD
International Fund for Agricultural Development
UN-Habitat
United Nations Human Settlements Programme
ILO
International Labor Organization
IOM
International Organization for Migration
ITC
International Trade Centre
ITU
International Telecommunications Union
WHO
World Health Organization
UNEP
United Nations Environment Programme
UNIDO
United Nations Industrial Development Organization
UNAIDS
Joint United Nations Programme on HIV/AIDS
UNCDF
United Nations Capital Development Fund
UNESCO
United Nations Educational, Scientific and Cultural Organization
UNFPA
United Nations Population Fund
UNHCR
United Nations High Commissioner for Refugees
UNICEF
United Nations Children's Fund
UNODC
United Nations Office on Drugs and Crime
UNOPS
United Nations Office for Project Services
Other entities involved in this initiative