Book of Condolence opened for UN personnel lost in the plane crash
The United Nations in Ethiopia has opened a book of condolence to pay respects to the UN personnel lost in the airplane crash in Bishoftu on 10 March 2019.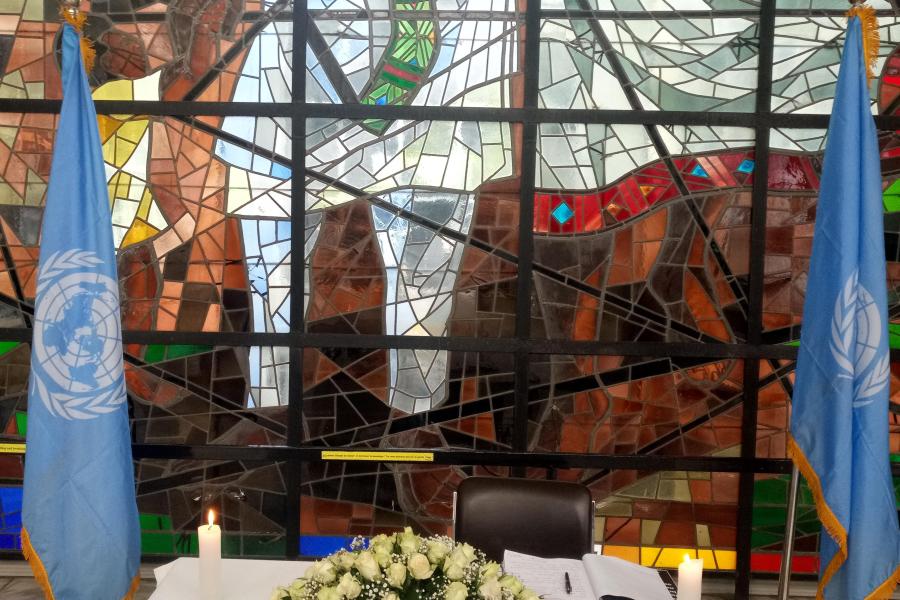 Photo | Getachew Dibaba
The United Nations staff in Ethiopia also held a minute of silence and a flag lowering ceremony in memory of the numerous UN personnel killed in the crash of Ethiopian Airlines flight ET302 at the UN Conference Centre on 11 March 2019. The solemn gathering was led by the UN Resident Coordinator and Humanitarian Coordinator, Mr. Aeneas Chuma.
"The UN family was deeply saddened by the tragic plane crash that caused the loss of 157 lives including our UN colleagues. In these difficult hours, the United Nations sends its deepest condolences to the families of the victims and their loved ones," said Mr. Chuma.
The United Nations Secretary-General, Mr. António Guterres, and heads of UN agencies, also expressed their condolences over the tragic accident.
"Deeply saddened by the news this morning of the plane crash in Ethiopia, claiming the lives of all on board. My heartfelt condolences to the families and loved ones of all the victims — including our own UN staff — who perished in this tragedy," says Mr. Guterres in his tweet.
UN entities involved in this initiative
OHCHR
Office of the United Nations High Commissioner for Human Rights
OCHA
United Nations Office for the Coordination of Humanitarian Affairs
UNDP
United Nations Development Programme
UN ECA
United Nations Economic Commission for Africa
UNCTAD
United Nations Conference on Trade and Development
FAO
Food and Agriculture Organization of the United Nations
IFAD
International Fund for Agricultural Development
UN-Habitat
United Nations Human Settlements Programme
ILO
International Labor Organization
IOM
International Organization for Migration
ITU
International Telecommunications Union
WHO
World Health Organization
UNEP
United Nations Environment Programme
UN Women
United Nations Entity for Gender Equality and the Empowerment of Women
UNAIDS
Joint United Nations Programme on HIV/AIDS
UNESCO
United Nations Educational, Scientific and Cultural Organization
UNFPA
United Nations Population Fund
UNHCR
United Nations High Commissioner for Refugees
UNICEF
United Nations Children's Fund
UNODC
United Nations Office on Drugs and Crime
UNV
United Nations Volunteers
Other entities involved in this initiative