UN 2019 Women Run - I Lead
The UN in Ethiopia is the title sponsor for the UN 2019 Women First Run which will be held under the theme "I Lead!" on Sunday 10 March 2019.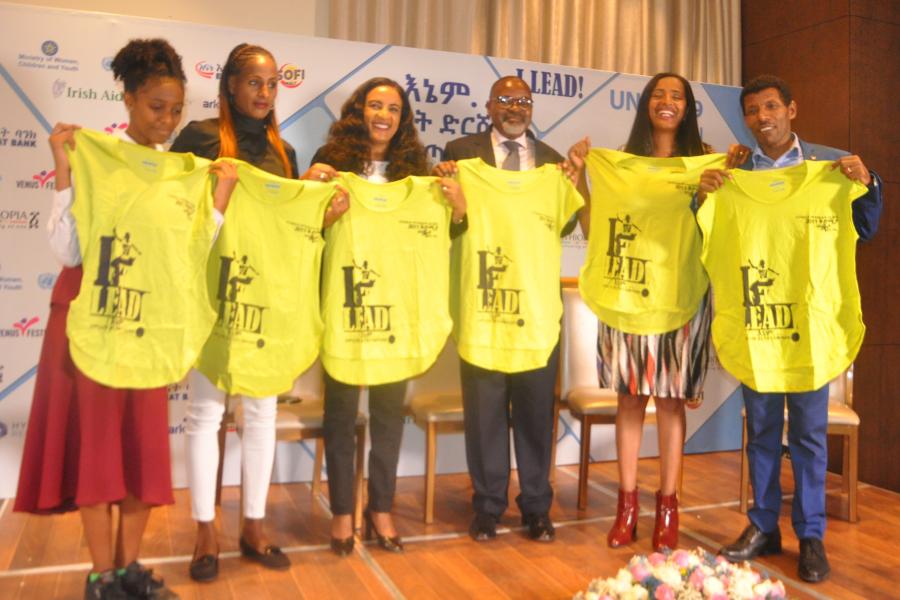 Photo | Getachew Dibaba UN Ethiopia
This year 13,000 girls and women are expected to run in support of the theme.
This year's theme – I LEAD – was chosen to celebrate the remarkable progress in bringing women leadership to high-level political positions. The formation of the record 50 percent women cabinet as well as the appointment of the first female president and the first Supreme Court President are commendable steps taken by Ethiopia that is implementing a range of political and reforms under the leadership of Prime Minister Abiy Ahmed.
At a pre-press conference which was also attended by Ms. Yelam Tsegaye, Minister of Women, Children and Youth, UN Resident and Humanitarian Coordinator, Mr. Aeneas Chuma, said, "the United Nations recognizes the importance of bringing women to high-level leadership to influence key decisions and pave the way for building more resilient societies and vibrant economies and subsequently to achieve a more just, peaceful and prosperous world.
"I Lead" - the theme chosen this year's run – also underscores the significant role of women leadership in the transformation of the country, Mr. Chuma said. "It also stresses the importance of personal commitment – more women, from all walks of life and interests, need to step up and say 'I Lead!'.
Mr. Chuma also underscored the importance to sustaining the momentous change in Ethiopia that is opening more opportunities for women in political leadership positions and ensure that it is expanded to all structures and at all levels
"Achieving gender equality and women's empowerment is integral to each of the 17 goals of the Sustainable Development Goals – the SDGs or Agenda 2030. Only by ensuring the rights of women and girls across all the goals will we get to justice, inclusive and prosperous world," added Mr. Chuma.
UN entities involved in this initiative
OHCHR
Office of the United Nations High Commissioner for Human Rights
OCHA
United Nations Office for the Coordination of Humanitarian Affairs
UNDP
United Nations Development Programme
UN ECA
United Nations Economic Commission for Africa
UNCTAD
United Nations Conference on Trade and Development
FAO
Food and Agriculture Organization of the United Nations
IFAD
International Fund for Agricultural Development
UN-Habitat
United Nations Human Settlements Programme
ILO
International Labor Organization
IOM
International Organization for Migration
ITC
International Trade Centre
ITU
International Telecommunications Union
WHO
World Health Organization
UNEP
United Nations Environment Programme
UN Women
United Nations Entity for Gender Equality and the Empowerment of Women
UNIDO
United Nations Industrial Development Organization
UNAIDS
Joint United Nations Programme on HIV/AIDS
UNCDF
United Nations Capital Development Fund
UNESCO
United Nations Educational, Scientific and Cultural Organization
UNFPA
United Nations Population Fund
UNHCR
United Nations High Commissioner for Refugees
UNICEF
United Nations Children's Fund
UNDRR
UN Office for Disaster Risk Reduction
UNODC
United Nations Office on Drugs and Crime
UNOPS
United Nations Office for Project Services
UNV
United Nations Volunteers
Goals we are supporting through this initiative