Inclusive Governance and Conflict Management Support Project launched
The Ministry of Peace and UN in Ethiopia launched a joint project on Inclusive Governance and Conflict Management to support the Government of Ethiopia.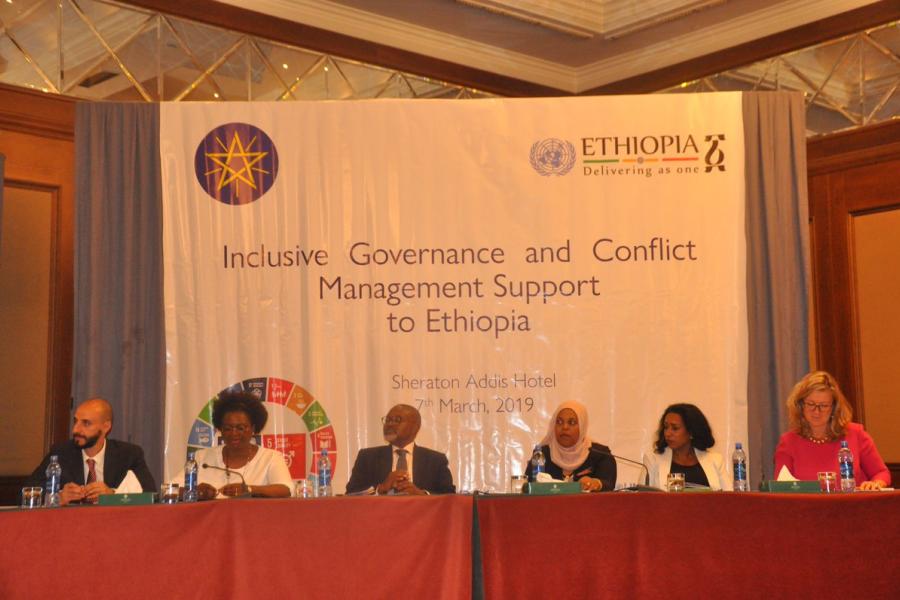 Photo | Getachew Dibaba UN Ethiopia
The project seeks to help kick-start a national process for an inclusive development of a peacebuilding strategy to tackle internal displacement among others.
The joint intervention will focus on supporting Ethiopia to resolve key conflict factors and ensure national ownership of peacebuilding priorities. It also seeks to reduce regional and local level conflict and facilitating communal level social cohesion.
The joint initiative is funded by the UN Peace Building Fund and will benefit from the expertise of various UN agencies such as UNDP, IOM, UN WOMEN and UNESCO
The Ministry of Women and Children Affairs and the Ministry of Education will also play critical roles in the implementation of the project which will be coordinated by the Ministry of Peace on behalf of the Ethiopian Government.
Mr. Aeneas Chuma, UN Resident Coordinator and UN Humanitarian Coordinator, said, "The current reforms will require peace, stability and security to succeed. There will also be need for the youth and women to be active partners to the process, to own the process and lead it. Thus, key pillars of this initiative will focus on youth and women in governance and peacebuilding.
The USD 2.8 mln project will have a national coverage with specific attention to conflict cluster zones of Oromia and Somali regions.
UN entities involved in this initiative
UNDP
United Nations Development Programme
IOM
International Organization for Migration
UN Women
United Nations Entity for Gender Equality and the Empowerment of Women