Ethiopia, Kenya UN Country Teams discuss on enhancing cross-border project agreement implementation
The UN Country Teams of Kenya and Ethiopia discussed ways of ensuring effective UN support and engagement in the implementation of a cross-border programme.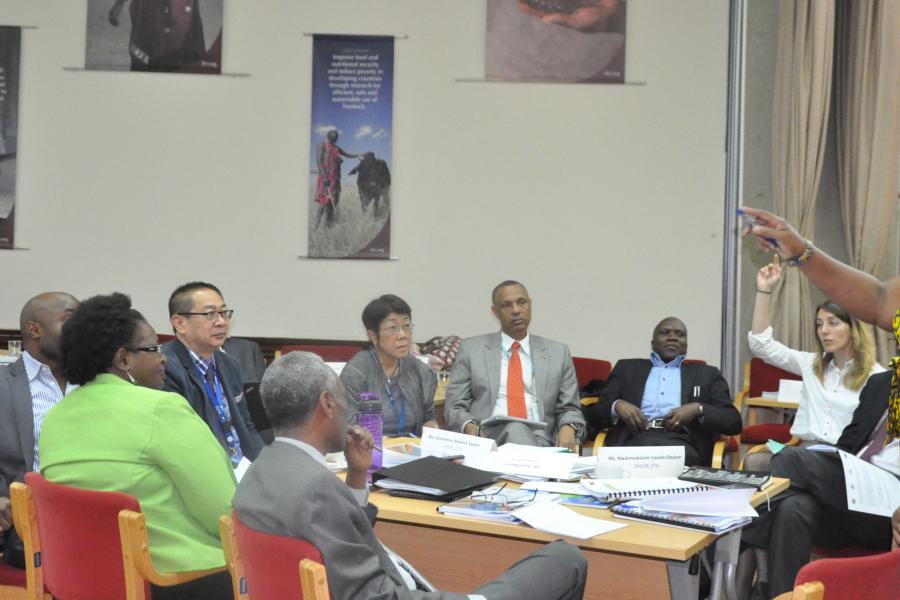 Photo | Getachew Dibaba UN Ethiopia
The UN Country Teams of Kenya and Ethiopia met in Addis Ababa to discuss ways of ensuring effective UN support and engagement in the implementation of a cross-border integrated programme signed by the governments of the two countries with the support of the United Nations and other partners.
The program entitled "Cross-Border Integrated Programme for Sustainable Peace and Socioeconomic Transformation: Marsabit County, Kenya, and Borana and Dawa Zones, Ethiopia" aims to reduce vulnerability and increase the resilience of communities affected by conflict and other recurrent humanitarian shocks, and economically empower communities through transformative socioeconomic programmes.
The two governments in partnership with the Intergovernmental Authority on Development (IGAD) and the UN Country Teams of Ethiopia and Kenya initiated the cross border programme to jointly address the challenges of security and development in the cross-border regions of Marsabit county in Kenya, and Borana and Dawa zones in Ethiopia. The Governments of Ethiopia and Kenya signed the agreement in June 2017.
Key programme outputs include: a) Strengthened conflict resolution and peace building mechanisms; b) Improved environment and natural resource management; c) Enhanced market access, trade and financial services; d) Improved livelihoods support and basic social services; e) Strengthened disaster risk management, preparedness and response; f) Enhanced research, knowledge and technology management, and monitoring and evaluation; and e) strengthened coordination and institutional arrangements, partnerships and resource mobilization.
Speaking at the joint meeting, H.E. Kayidaki Gezahegn, Ethiopia's State Minister for Federal and Pastoralist Development Affairs, said, "the initiative is an affirmation of the recognition that peace and development are intertwined, and without one the other is impossible. It is about transforming the Marsabit-Borana region from being 'barriers' to a 'bridge'."
"I am very happy to note that the programme also fully reflects the spirit of 2030 Agenda, and in particular contributes to the Sustainable Development Goals 1 and 16 that aim to end poverty and promote peaceful and inclusive societies respectively," the State Minister added.
The overall budget required to implement the Cross Border Program is USD 522,437,399. The Ministry of Federal and Pastoralist Development Affairs (MoFPDA) in Ethiopia and the Office of the President in Kenya will be in-charge of the overall programme management and coordination.  Joint Steering and Technical Committee will be established to advance implementation.
Currently, Ethiopia, the second most populous country in Africa, has one of the fastest growing economies with ambitions of becoming a carbon neutral middle income status country by 2025; while Kenya's 2030 vision looks towards creating a globally competitive and prosperous nation with a high quality of life.
UN entities involved in this initiative
OHCHR
Office of the United Nations High Commissioner for Human Rights
OCHA
United Nations Office for the Coordination of Humanitarian Affairs
UNDP
United Nations Development Programme
UN ECA
United Nations Economic Commission for Africa
FAO
Food and Agriculture Organization of the United Nations
UN-Habitat
United Nations Human Settlements Programme
ILO
International Labor Organization
IOM
International Organization for Migration
ITU
International Telecommunications Union
WHO
World Health Organization
UNEP
United Nations Environment Programme
UN Women
United Nations Entity for Gender Equality and the Empowerment of Women
UNAIDS
Joint United Nations Programme on HIV/AIDS
UNCDF
United Nations Capital Development Fund
UNESCO
United Nations Educational, Scientific and Cultural Organization
UNFPA
United Nations Population Fund
UNHCR
United Nations High Commissioner for Refugees
UNICEF
United Nations Children's Fund
UNODC
United Nations Office on Drugs and Crime
UNOPS
United Nations Office for Project Services