UN Secretary-General met with staff in Ethiopia
UN Secretary-General, António Guterres, met with the United Nations staff in Ethiopia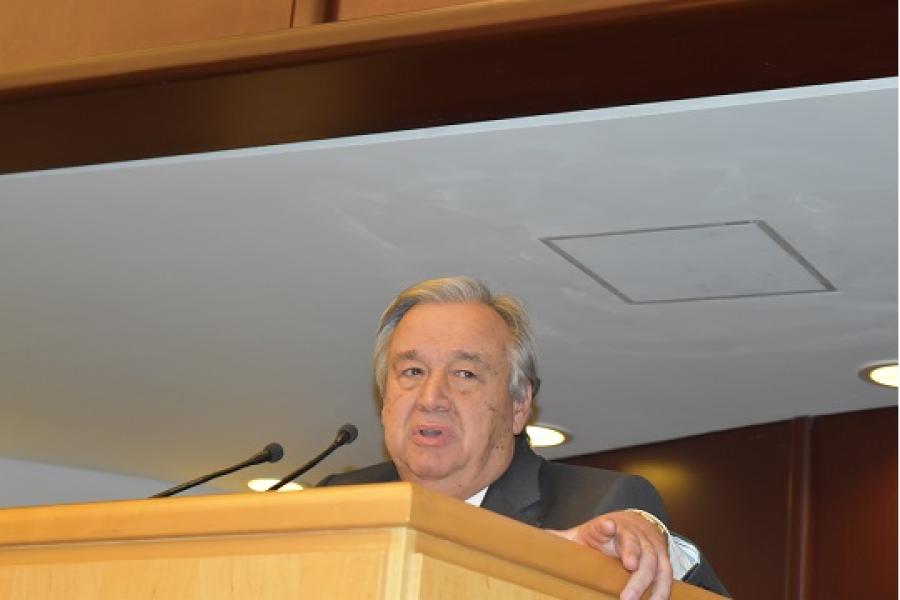 UN Secretary-General, António Guterres, who was in Ethiopia to address the African Union Summit for the first time since taking office, met with the United Nations staff in the country on 29 January 2017.
In his address to the staff, Mr. Guterres, expressed gratitude to the staff for their hard work to make a difference in the lives of people in need.
"The colleagues are working here under complex circumstances, and I would like to express my appreciation and gratitude to the courage and extraordinary quality work to help Ethiopians and refugees in the country," said Mr. Guterres.
The Secretary-General also pointed out that Africa is one of the key priorities of the United Nations. "We should have a different and positive narrative of Africa," he said.
UN Resident and Humanitarian Coordinator, Ms. Ahunna Eziakonwa, said close to 3000 UN staff members in Ethiopia are contributing to realize the collective vision of the United Nations.
 "Our staff members in Addis Ababa and in the field have worked hard to ensure life-saving relief assistance reached to 10 million drought affected people in 2016-2017," adds Ms. Eziakonwa.
"Other colleagues, who are focused in development work, are making persistent efforts to ensure the UN support to Ethiopia yields development results that are sustainable, and that they create positive impact on the lives of most vulnerable people we work for."
While in Addis Ababa, the Secretary-General, also met with the United Nations Country Team in Ethiopia and attended a high-level event on the humanitarian situation in Ethiopia.
UN entities involved in this initiative
OHCHR
Office of the United Nations High Commissioner for Human Rights
OCHA
Office for the Coordination of Humanitarian Affairs
UNDP
United Nations Development Programme
UN ECA
United Nations Economic Commission for Africa
UNCTAD
United Nations Conference on Trade and Development
FAO
Food and Agriculture Organization of the United Nations
IFAD
International Fund for Agricultural Development
UN-Habitat
United Nations Human Settlements Programme
ILO
International Labor Organization
IOM
International Organization for Migration
ITC
International Trade Centre
ITU
International Telecommunications Union
WHO
World Health Organization
UNEP
United Nations Environment Programme
UN Women
United Nations Entity for Gender Equality and the Empowerment of Women
UNIDO
United Nations Industrial Development Organization
UNAIDS
Joint United Nations Programme on HIV/AIDS
UNCDF
UN Capital Development Fund
UNESCO
United Nations Educational, Scientific and Cultural Organization
UNFPA
United Nations Population Fund
UNHCR
United Nations High Commissioner for Refugees
UNICEF
United Nations Children's Fund
UNODC
United Nations Office on Drugs and Crime
UNOPS
United Nations Office for Project Services