UN 2018 Women First Run: Violence-Free Life
Some 12,000 women and girls took part in the UN 2018 WOMEN FISRT RUN promoting a space for a violence-free life.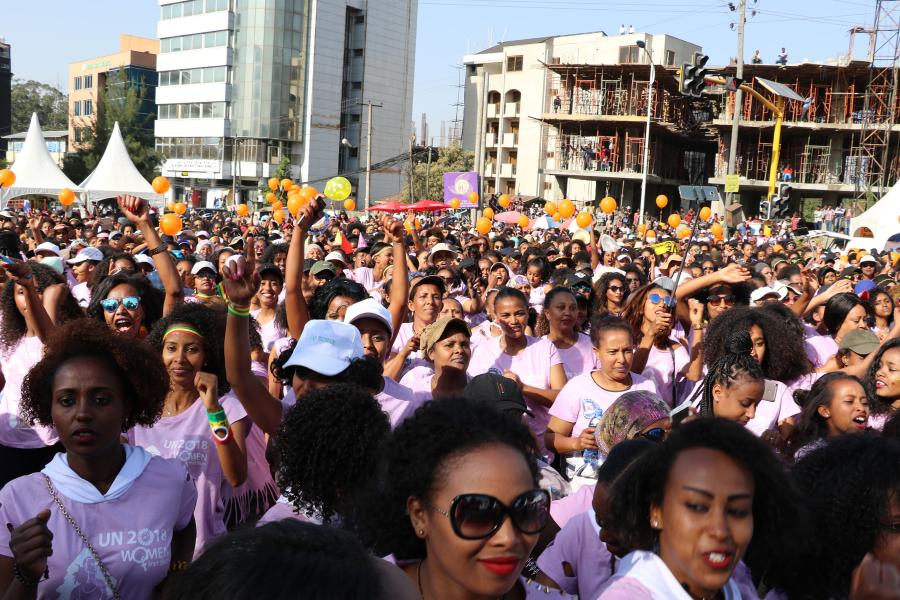 Photo | Getachew Dibaba UN Ethiopia
Some 12,000 women and girls took part in the UN 2018 WOMEN FISRT RUN promoting a space for a violence-free life.  The United Nations in Ethiopia was a title sponsor of the run which was organized the Great Ethiopian Run.
Violence against women and girls is one of the most serious and pervasive violations of human rights. It seriously undermines the rights of women to social services such as healthcare and education. It also prevents them from unleashing their potential and contributing to the country's socio-economic development despite their numerical significance.
Fostering and enacting a culture of zero tolerance on violence against women and girls is a top priority for peaceful and cohesive societies. Achieving Gender Equality and Empowering All Women and Girls (Goal 5) is also one of the 17 Sustainable Development Goals endorsed by all members states of the United Nations. Addressing gender inequalities exposing women to various forms of gender-based violence is essential to achieve the 'Leave No One Behind' principle of the 15-year global development agenda.
Facts and figures: Ending violence against women
Various forms of violence
It is estimated that 35 per cent of women worldwide have experienced either physical and/or sexual intimate partner violence or sexual violence by a non-partner at some point in their lives. However, some national studies show that up to 70 per cent of women have experienced physical and/or sexual violence from an intimate partner in their lifetime.
Women who have been physically or sexually abused by their partners are more than twice as likely to have an abortion, almost twice as likely to experience depression, and in some regions, 1.5 times more likely to acquire HIV, as compared to women who have not experienced partner violence.
Worldwide, almost 750 million women and girls alive today were married before their 18thbirthday. Child marriage is more common in West and Central Africa, where over 4 in 10 girls were married before age 18, and about 1 in 7 were married or in union before age 15. Child marriage often results in early pregnancy and social isolation, interrupts schooling, limits the girl's opportunities and increases her risk of experiencing domestic violence.
Around 120 million girls worldwide (slightly more than 1 in 10) have experienced forced intercourse or other forced sexual acts at some point in their lives. By far the most common perpetrators of sexual violence against girls are current or former husbands, partners or boyfriends.
At least 200 million women and girls alive today have undergone female genital mutilation in the 30 countries with representative data on prevalence. In most of these countries, the majority of girls were cut before age 5.
Source: UN WOMEN
In Ethiopia, there is:
35% prevalence of spousal violence (domestic violence); one third of ever-married women reported that they have experienced violence from their husband or partner. Source: EDHS 2016.
Discriminatory attitudes and behaviors towards women at the institutional, community, and individual level. 68% of women and 45% of men believe that wife beating is justified under specific circumstances. Source: EDHS 2011.
47% of girls aged 15-19 have undergone FGM. Source: EDHS, 2016
Low awareness regarding laws and policies, both amongst enforcement agencies and the general population; coupled with limited capacity to implement them amongst enforcement agencies and weak justice mechanisms, leading to impunity for VAWG.
Insufficient multi-sectoral, survivor-focused services of high quality to deal with women and children survivors of violence in accordance with international human rights standards.
Inadequate data and systematic information collection on VAWG and women's access to justice.
UN entities involved in this initiative
OHCHR
Office of the United Nations High Commissioner for Human Rights
OCHA
United Nations Office for the Coordination of Humanitarian Affairs
UNDP
United Nations Development Programme
UN ECA
United Nations Economic Commission for Africa
FAO
Food and Agriculture Organization of the United Nations
IFAD
International Fund for Agricultural Development
UN-Habitat
United Nations Human Settlements Programme
ILO
International Labor Organization
IOM
International Organization for Migration
ITC
International Trade Centre
ITU
International Telecommunications Union
WHO
World Health Organization
UNEP
United Nations Environment Programme
UN Women
United Nations Entity for Gender Equality and the Empowerment of Women
UNIDO
United Nations Industrial Development Organization
UNAIDS
Joint United Nations Programme on HIV/AIDS
UNCDF
United Nations Capital Development Fund
UNESCO
United Nations Educational, Scientific and Cultural Organization
UNHCR
United Nations High Commissioner for Refugees
UNICEF
United Nations Children's Fund
UNODC
United Nations Office on Drugs and Crime
UNOPS
United Nations Office for Project Services