Children celebrated Christmas in the UN compound
More than 700 children and their family members celebrated Christmas in the United Nations Economic Commission for Africa (UNECA) compound on 24 December 2016.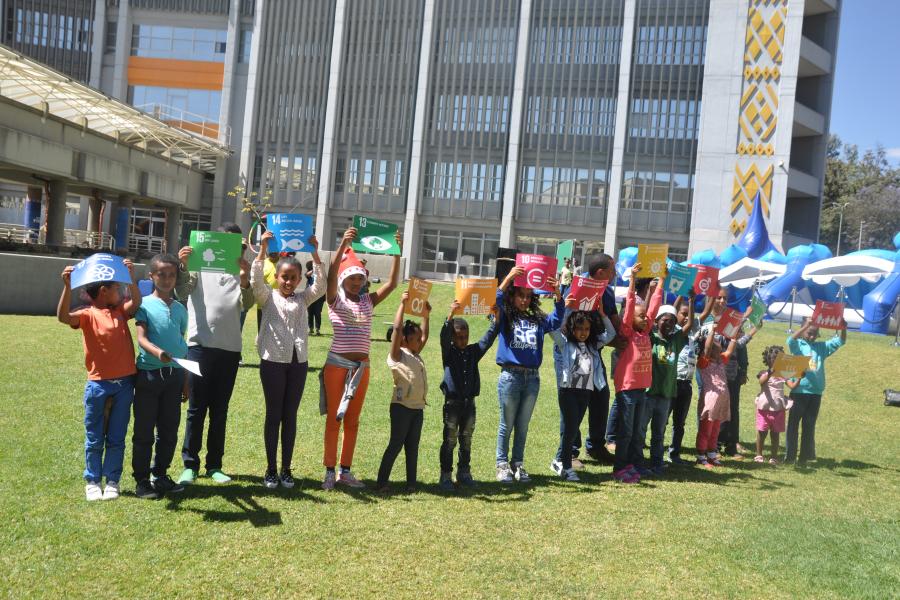 The Federation of United Nations Staff Associations (FUNSA) and UNECA Staff Union organized the 2016 Children Christmas Play Day in which children played different games and demonstrated their talents in different competitions including drawing, circus, puppetries, music and sport activities.
At the event, the United Nations Resident Coordinator's Office and UN Health Care Center also sensitized parents and children on the Sustainable Development Goals (SDGs) and nutrition respectively.
UN entities involved in this initiative
OHCHR
Office of the United Nations High Commissioner for Human Rights
OCHA
Office for the Coordination of Humanitarian Affairs
UNDP
United Nations Development Programme
UN ECA
United Nations Economic Commission for Africa
UNCTAD
United Nations Conference on Trade and Development
FAO
Food and Agriculture Organization of the United Nations
UN-Habitat
United Nations Human Settlements Programme
ILO
International Labor Organization
IOM
International Organization for Migration
ITC
International Trade Centre
ITU
International Telecommunications Union
WHO
World Health Organization
UNEP
United Nations Environment Programme
UNIDO
United Nations Industrial Development Organization
UNAIDS
Joint United Nations Programme on HIV/AIDS
UNESCO
United Nations Educational, Scientific and Cultural Organization
UNFPA
United Nations Population Fund
UNHCR
United Nations High Commissioner for Refugees
UNICEF
United Nations Children's Fund
UNODC
United Nations Office on Drugs and Crime
UNOPS
United Nations Office for Project Services
UNV
United Nations Volunteers