Giving a Hand to Tomorrow's Volunteers for a Peaceful and Sustainable Future
A local school for children from economically vulnerable families hosted this year's International Volunteer Day (IVD) in Ethiopia.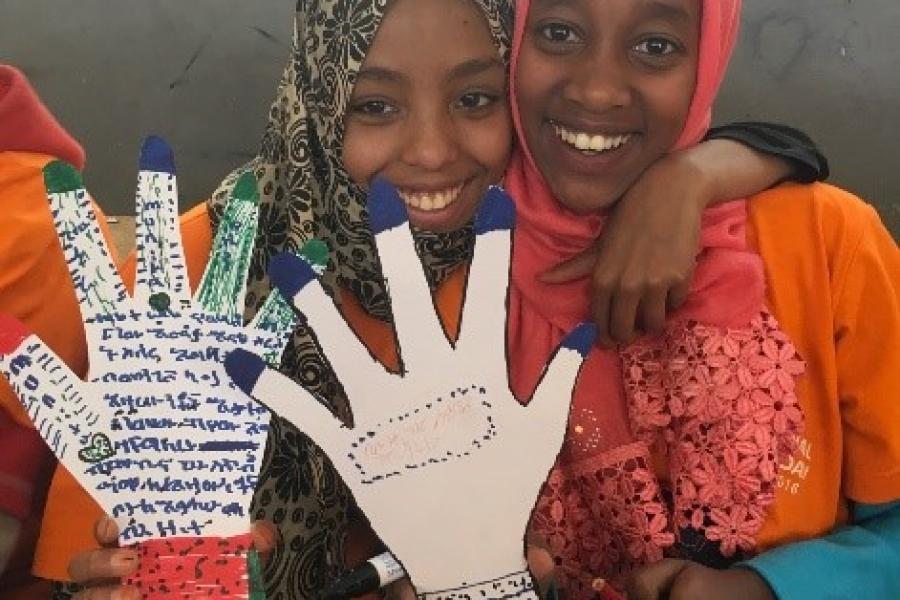 Representatives of the volunteer involving organizations, Government, youth-led volunteer associations and volunteers joined the young students from Mesekerem Elementary School of Addis Ababa to echo the theme of IVD 2016 "#Global Applause – Give Volunteers a Hand".
In addition to the 200 students and staff from Mesekerem Elementary School, representatives from the Korean International Cooperation Agency (KOICA), Volunteer Service Overseas (VSO), Rotary Club, Cuso International and Care Epilepsy attended the event coordinated by the UN Volunteers programme in Ethiopia.
The school has more than 800 students with the majority of them come from families with low or no income. Some of the students are also living with disabilities. The school receives support from a number of individuals and institutions including from the Office of the First Lady.
"We celebrate this International Volunteer Day together with our future volunteers, giving them a hand of friendship and support, inviting them to join the global volunteer family", said Mr. Janvier Wussinu, UNDP Ethiopia Deputy Country Director, opening the ceremony of the IVD 2016 celebrations. 
 "The volunteer actions today are one the best investments into our common peace and sustainable development, achieved through community work of our volunteers and inclusion of the next generation into it. Please, join me in giving a hand of volunteerism to our young participants and let's make our world a better place for life together!" he underlined.
The celebration of  IVD 2016 in the school included a workshop on volunteerism for peace and development moderated by volunteers, the arrangement of a kitchen garden as a part of the school feeding programme for children from poor families, hygiene campaign, donations of hygienic goods and kitchen garden equipment, themselves.
The United Nations Volunteers Programme in Ethiopia was launched in 1970 and currently has more than 50 UN volunteers serving in Ethiopia. The UNV programme cooperates with more than 10 UN Agencies and a number of volunteer involving organizations in the country. The national and international UN volunteers in Ethiopia are deployed to various duty stations across the country and are involved in the in a number of thematic areas of expertise such as monitoring and evaluation, gender, work with refugees, environment, governance, health, nutrition, child protection, education and communications.
UN entities involved in this initiative
UNAIDS
Joint United Nations Programme on HIV/AIDS