Ethiopia Obtains Biosafety Level 3 Mobile Laboratory
The United Nations in Ethiopia Team supported the Ethiopian Ministry of Health to obtain a Biosafety Mobile Lab.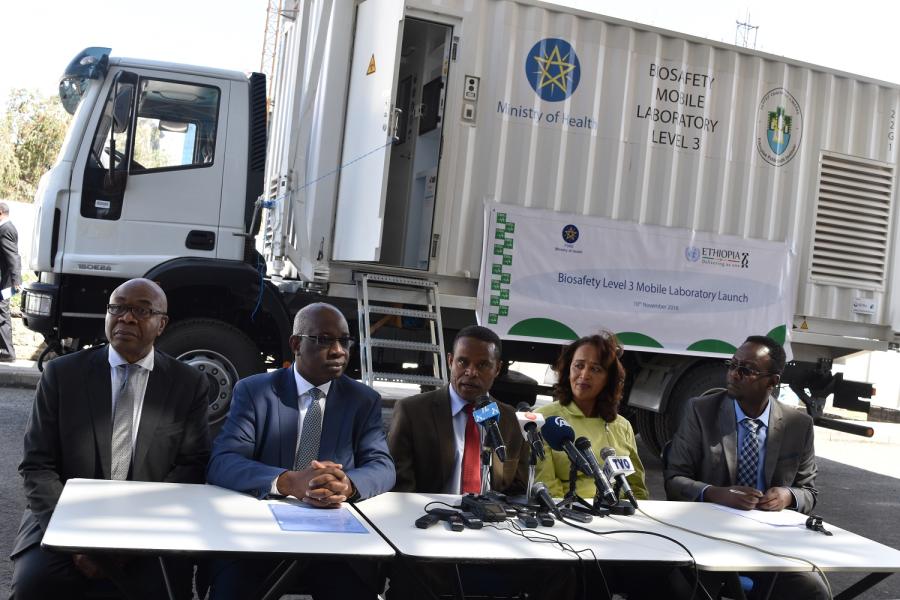 Biosafety Level Three Laboratory (BSL3) would enable the country to have the capacity to diagnose   disease causing micro-organisms, including viral hemorrhagic fevers and other emerging viruses. 
The laboratory, which meets the World Health Organization standards, is specially designed to protect laboratory personnel as well as the environment from the highly contagious disease causing agents. 
Ethiopia's Biosafety Level Three Laboratory was made possible through an extraordinary technical and financial partnership between the Federal Ministry of Health (FMOH) and the United Nations Country Team (UNCT) in Ethiopia.  
UNDP, UNECA, UNFPA, UNHCR, UNICEF, UNOPS, WFP and WHO in partnership with the Federal Ministry of Health of Ethiopia made the acquisition of this mobile lab possible. 
The idea of acquiring this mobile lab came at the time of the Ebola outbreak in Africa. The UNCT wanted to demonstrate its solidarity to the Federal Ministry of Health in its efforts to prevent the spread of the virus to Ethiopia. 
UN entities involved in this initiative
UNDP
United Nations Development Programme
UN ECA
United Nations Economic Commission for Africa
WHO
World Health Organization
UNFPA
United Nations Population Fund
UNHCR
United Nations High Commissioner for Refugees
UNICEF
United Nations Children's Fund
UNOPS
United Nations Office for Project Services