Rio 2016 Olympic Games inspire refugees
Refugees who took part in mini-Olympic competitions in Ethiopia said they have been greatly inspired by those representing them at Rio 2016.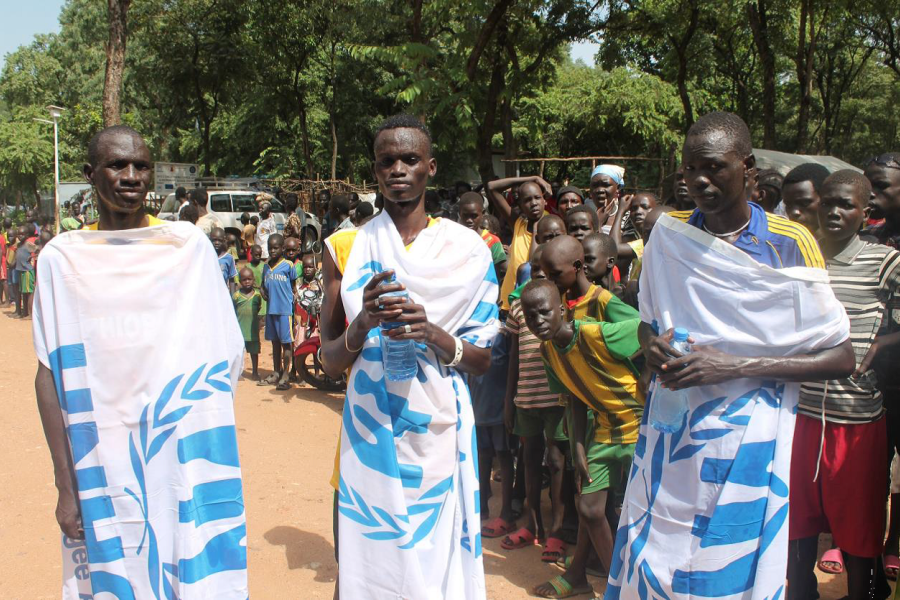 As a refugee team competed at the Olympic Games for the first time, hundreds of fellow refugees who took part in mini-Olympic competitions in Ethiopia said they have been greatly inspired by those representing them at Rio 2016. 
"My dream is to become a professional athlete in future," said Nyathijien Makuey who won the 5000m race in Jewi camp in Gambella Region of Ethiopia, as thousands of refugees and humanitarian workers cheered the enthusiastic runners. 
Two years ago, the 12-year-old ran away from the violence that engulfed her country, South Sudan. She said she was lucky to have escaped to Ethiopia and recalled that many people, including children, lost their lives in the carnage. 
"This is not the first time for me to win a competition. I have won sport competitions in my school in South Sudan and received prizes," she added, noting that the presence of refugees at Rio Olympics has further deepened her desire to become a world star and advocate for peace. "I will continue to work hard to one day become an Olympian," she declared. 
Makuey's dream is shared by other fellow refugees. Her 19-year-old brother Chiok Makuey also won the 5000 m for the male category. But could this be a family legacy? "I wake up every morning and do some running exercises before going to school. My sister joined me and we made it a routine. Sports is about regular practice," he said, pointing out that most of the athletes at Rio Olympics have been practicing for at least four years for the global event. 
The United Nations High Commissioner for Refugees (UNHCR), in collaboration with its partners, organized mini Olympic games in refugee camps to promote peace, unity and hope amongst refugees, as well as give them the chance to add their names to the #WithRefugees petition, which requests governments to act with solidarity and shared responsibility. The #WithRefugees petition will be delivered to UN Headquarters in New York ahead of the UN General Assembly high-level summit to address large movements of refugees and migrants in September. 
"Like the event in Rio de Janeiro, sports is a universal language which brings people together. We are delighted that athletics, football, volleyball, basketball and table tennis games have inspired refugees to contribute to peace and have big dreams for a brighter future," said Philippe Creppy, the Head of UNHCR Sub-Office in Gambella region, which hosts nearly 270,000 South Sudanese refugees, the majority of whom arrived after 15 December 2013. "We need more support for sporting activities which is also one way of keeping refugees entertained and of promoting a peaceful coexistence in Ethiopia," he appeals. 
UNHCR will provide refugee competitors with shoes, jerseys and with prizes such as solar lanterns and T-shirts. Winners of various sporting activities will also receive Olympic pins and #WithRefugees wrist bands. Other mini Olympic games were organized in Shire and Jijiga. 
Partners that provided support for the activity in Gambella region include the Administration for Refugee and Returnee Affairs (ARRA), Save the Children, International Medical Corps (IMC), Plan International, Danish Refugee Council (DRC), and Ethiopian Red Cross, which provided ambulances services. ZOA, an international relief and recovery organization whose three letters ZOA are the abbreviation of the Dutch translation of South East Asia, also provided support. 
Amidst challenges, including the lack of training shoes, the ten refugees at Rio Olympics 2016 including a marathoner from Ethiopia, five middle-distance runners from South Sudan, two judokas from the Democratic Republic of the Congo and two Syrian swimmers act as symbols of hope for refugees worldwide and bring global attention to this global refugee crisis. 
UN entities involved in this initiative
UNHCR
United Nations High Commissioner for Refugees