Story
Ethiopia kicks off 16 Days of Activism against Gender-Based Violence campaign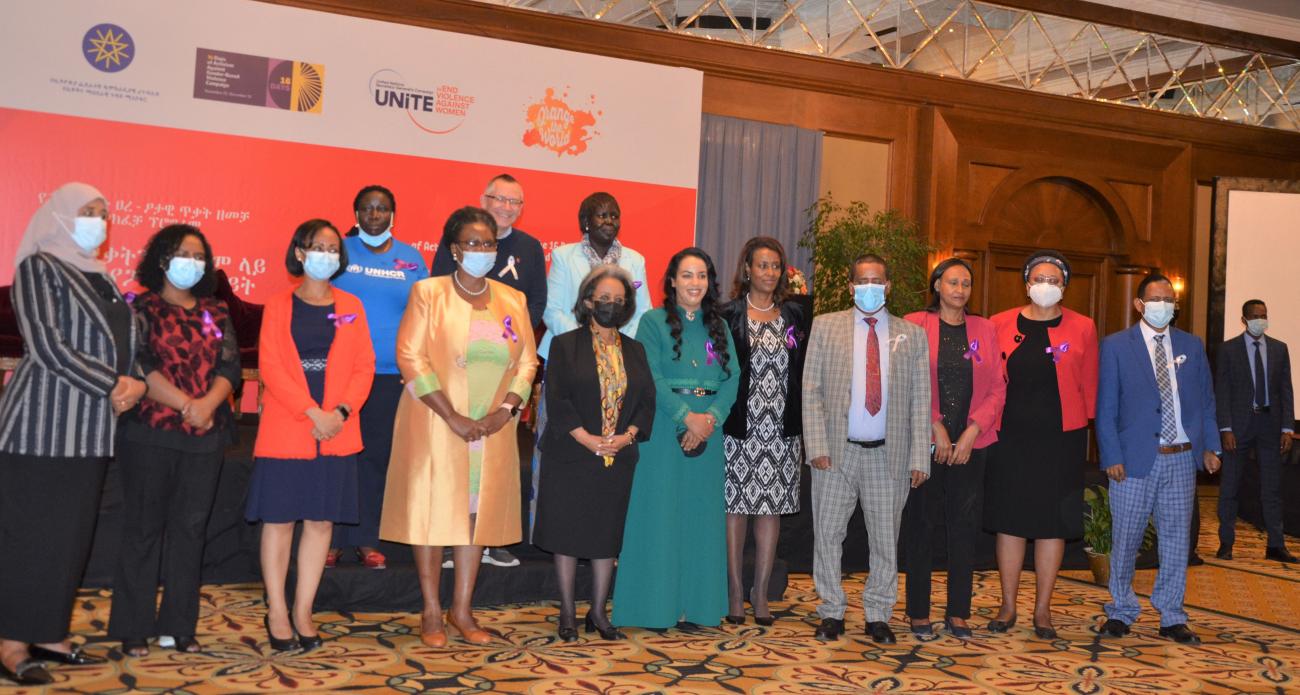 Ethiopia kicked off 16 Days of Activism against Gender-Based Violence campaign.
The UN in Ethiopia in partnership with the Government of Ethiopia and other stakeholders launched 16 days of activism campaign against Gender Based Violence (GBV) under the theme "Orange the world- End Violence against women and girls now!".
Speaking at the event, President of the Federal Democratic Republic of Ethiopia, H.E. Sahle-Work Zewde, called for relentless efforts of all stakeholders to address GBV in Ethiopia.
"As we launch the 16 days GBV activism this year, our situation and particularly the context we are in requires a 24/7 approach to address GBV. These days women and girls become the victims of warrying parties," President Sahle-Work said.
"We need to openly speak up loudly, make efforts and systems sustainable in addressing GBV," added the President.
Ms. Letty Chiwara, UN Women Representative to Ethiopia, UN Economic Commission for Africa and African Union, noted that women are more susceptible to sexual and gender-based violence when social structures are eroded by conflict, and they are especially vulnerable during migration and displacement.
"Generally, humanitarian emergencies deepen pre-existing gender inequalities, leading to increased discrimination, greater exclusion, and disproportionate risks for women and girls," Ms. Chiwara said.
Despite the multiple roles' women play everywhere they haven't received the recognition, the protection, and the services they deserve particularly they are suffering from the threat of GBV every time.
"Let peace prevail now end violence against women and girls now," said H.E. Ergogie Tesfaye, (PhD) Minister of Women and Social Affairs, who also repeated the national theme for this year's 16 days of activism campaign against GBV.
"In the current context of the country, we have been hearing the worst forms of GBV being committed against women and girls with a deep and life-long consequences on their physical, sexual and pyscho-social wellbeing requiring a concerted multisectoral rehabilitation effort," the Minister said.
In her remarks to the official launch, Ms. Sarah Masale, UNFPA Office In Charge, called for addressing digital violence which is devastatingly rampant.
"Digital violence takes many forms. Perpetrators may threaten and stalk women online," she said. "They may, without permission, attach pictures of women's and girls' faces to sexualized bodies and share them widely over social media, for years. Vicious online campaigns of hate speech and abuse target women with public roles, such as politicians and journalists as well as women's rights activists."
Ms Masale also called on all stakeholders to take concrete action to stop digital violence by making relentless efforts to define and measure it as well as understanding its forms, impact and ways to respond to and prevent it.  
Violence Against Women and Girls (VAWG) is one of the most systematic and widespread violations of human rights globally. It may occur against any woman or girl regardless of nationality, age, or socio-economic status.
About 1 in 3 (30 percent) of women worldwide have been subjected to either physical and/or sexual intimate partner violence or non-partner sexual violence in their lifetime. Nevertheless, stigma and sensitivity around disclosure throughout the world means that VAWG is almost universally under-reported.
According to Ethiopian Demographic and Health Survey (2016), nearly a quarter (23 percent) of women aged 15-49 reported having survived physical violence at some point in their lives, and 10 per cent reported experiencing sexual violence.
This year marks 30 years of the annual 16 Days of Activism on Gender-Based Violence. Since the Campaign's launch in 1991 by the Center for Global Women's Leadership, there has been significant attention to raising the visibility of the various forms of violence faced by women and girls in their diverse identities and throughout the course of their lives.
The national event attended by the high-level ministers and H.E. the president also saw the launch of the National Standard Operating Procedure (SoP) for shelter services to women and girls' survivors of violence in Ethiopia. The SoP was supported by UN Women and UNFPA under the leadership of MoWSA.
A high-level policy dialogue held under the theme "Experiences and lessons in provision of essential services for women and girls' survivors of violence" was also part of the opening event. Panellists for the dialogue include H.E Meaza Ashenafi, President of the Federal Supreme Court, H.E Liya Kebede, Minister of Health, H.E Dr. Ergoge Tesfaye, Minister of Women and Social Affairs, H.E Meskerem Gesit, Commissioner for Women and Children's Rights at the Ethiopian Human Rights Commission, H.E Fekadu Tsega, State Minister of Justice and H.E Mr. Jima Dilbo, Director General of the Ethiopia Agency for Civil Society Organisations.
UN entities involved in this initiative
RCO
United Nations Resident Coordinator Office
UN Women
United Nations Entity for Gender Equality and the Empowerment of Women
UNFPA
United Nations Population Fund
UNICEF
United Nations Children's Fund