Story
Weeklong activities in Ethiopia to celebrate World Environment Day 2022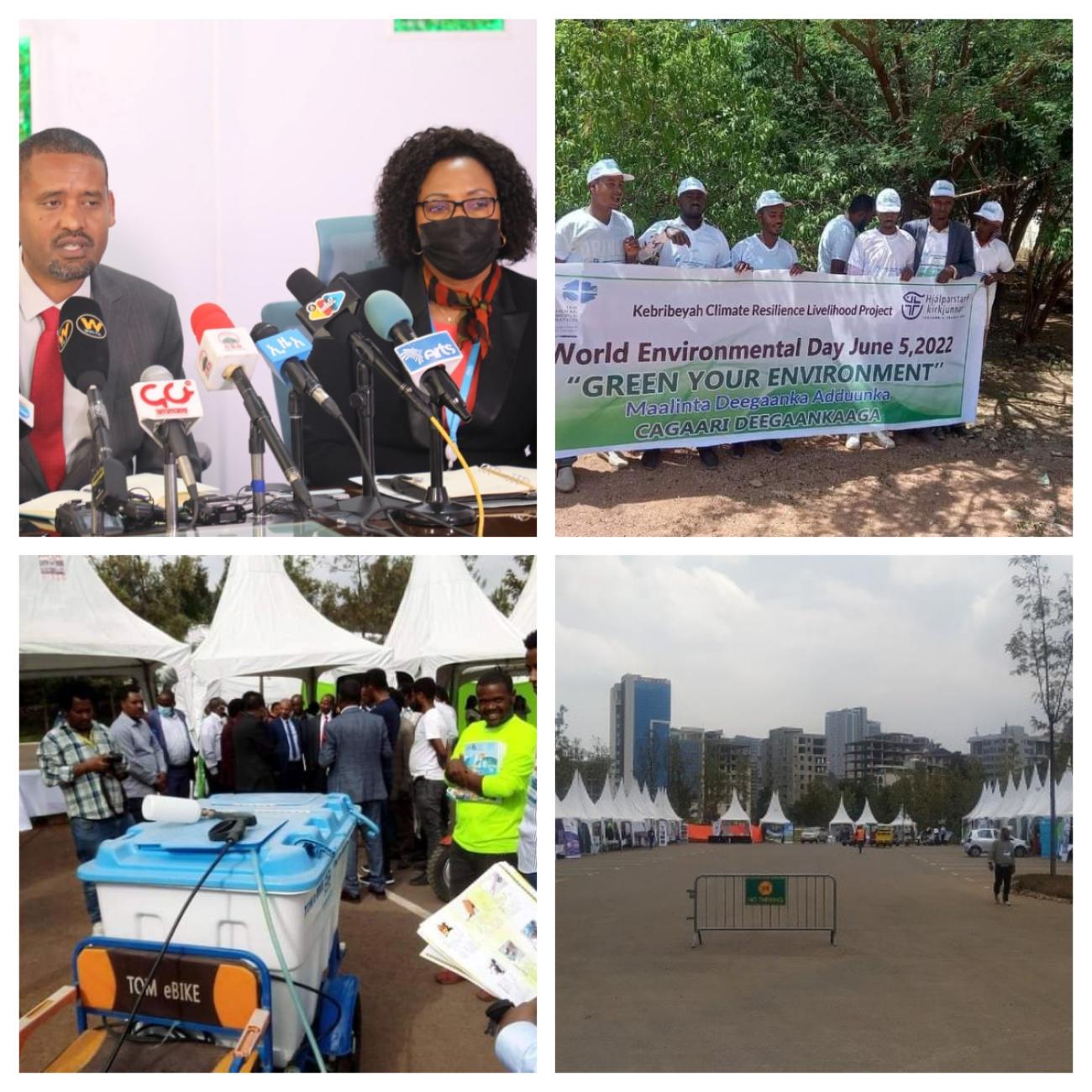 World Environment Day was celebrated in Ethiopia.
World Environment Day (WED), celebrated yearly on 5 June, is the United Nations flagship day to promote worldwide awareness and action towards the environmental agenda in the context of the Sustainable Development Goals. In Ethiopia, WED 2022 activities were led by the Ethiopian Environmental Protection Authority (EEPA) and supported by UNEP Addis Ababa Liaison Office (UNEP AALO). With this year's campaign slogan, Only One Earth – focusing on Living Sustainably in Harmony with Nature, a range of activities were organised between 3-6 June in both Addis Ababa and Jijiga.
An exhibition was launched between 3-6 June at Friendship Park in Addis Ababa, promoting and increasing awareness of interventions in Ethiopia that contribute to environmental sustainability and climate action. It displayed technology, products, services, and initiatives from actors such as the government, national organisations, the private sector and SMEs, to promote dialogue and cooperation between diverse stakeholders and create awareness as well as inspire action among the public.
A national conference was organized alongside the exhibition, including a set of panel discussions in Addis Ababa, with parallel sessions held in Jijiga. Keynote speakers from government, international and national organisations, academia, and national media were represented – discussing topics including Early Warning Systems and Mitigation Measures in Ethiopia; the role of CSOs, media, women and youth in environmental protection and management in Ethiopia; and the social and economic importance of forests.
At the national conference session in Addis Ababa, a keynote speech delivered by  a.i. Head of UNEP Addis Ababa Office, Dr. Margaret Oduk, set the tone for the day – highlighting the urgency of the triple planetary crisis, and that the progress Ethiopia has made in this field needs to not only be maintained and scaled-up, but ultimately become the basis for interventions and policy for years to come.
The sessions of the conference held in Jijiga included two panel discussions, a World Environment Day Marathon, tree planting and waste picking. The activities were kicked off by H.E Frenesh Mekuria, Deuputy Director General at the Ethiopian Environmental Protection Authority, highlighting the climate and environmental challenges Ethiopia face and urging everyone to contribute to restoring and protecting nature.
UN entities involved in this initiative
RCO
United Nations Resident Coordinator Office