Story
UNIDO and UNODC sign a Memorandum of Cooperation for a project on Operationalization and Sustainability of Integrated Agro-Industrial Parks in Ethiopia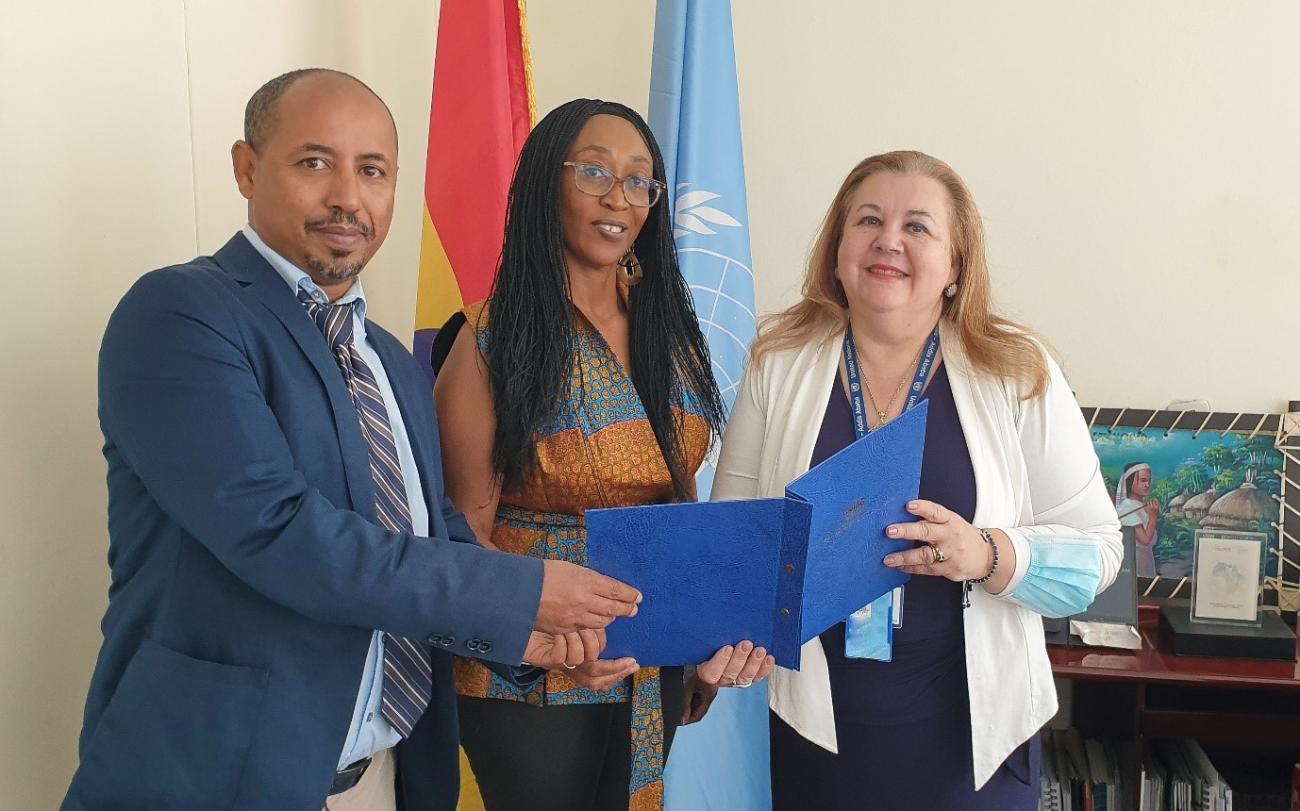 UNIDO and UNODC signed a Memorandum of Cooperation on 5 May 2022 in support of four Integrated Agro-industrial Parks (IAIPs) in Ethiopia.
The United Nations Industrial Development Organization (UNIDO) and the United Nations Office on Drugs and Crime (UNODC) signed a Memorandum of Cooperation on 5 May 2022 in supporting four Integrated Agro-industrial Parks (IAIPs) in Ethiopia.
The project will see UNIDO's engagement in the operationalization and sustainability of four IAIPs  while UNODC is tasked with performing activities around the theme of prevention of gender-based violence (GBV) in the parks. The three-year project funded by the Italian Agency for Development Cooperation (AICS) is being coordinated by the Ministry of Industry (MoI) at the government level. The two million Euro project is running up to August 2024.
The Government of Ethiopia (GoE) has prioritized the development of industrial parks (IPs) mainly in the agro-processing, leather, textile and pharmaceutical sectors. Building on the comparative advantage of the country to foster international competitiveness in selected agro-industrial value chains, the GoE is developing several IAIPs and interlinked rural transformation centres (RTCs) as critical vehicles for the structural transformation of its economy. This transformation will be driven by the development of the Ethiopian agricultural production system from its current fragmented and supply-driven practices, to one that is organized and based on quality and demand. Such a change will boost agro-processing and will help create employment and stimulate a shift in investment and human resources from agriculture to agro-industries. To this end, since 2011, UNIDO has been supporting the GoE in developing four pilot IAIPs in Amhara, Oromia, Sidama (former SNNP) and Tigray Regional States, out of which three were inaugurated in 2021 with the exception of the one in Tigray.
The overall goal of the IAIP programme is to contribute to the development of the agro-industrial sector and the creation of decent jobs and economic opportunities in the rural areas of the country particularly in the four IAIPs.
UNIDO will be specifically engaged in promoting an increased involvement of the private sector in the agro-industry and allied sectors in and around the IAIPs and rural transformation centres as well as in developing and introducing an improved food quality, safety and traceability regulatory framework in the agro-industry sector.
The promotion of decent job agenda and gender mainstreaming is an important component of the overall IAIP programme in Ethiopia and features in several RTCs being implemented with activities such as capacity building and sensitisation workshops among the main stakeholders on job safety, pay grades, career opportunities, childcare, sexual harassment. To further add value to the on-going intervention, this project will support the introduction of affirmative action on gender parity, safety and security for female workers at the workplace.
The proposed project is in line with the Italian strategy outlined in the 3-year Ethio-Italian Country Framework 2017/2019, which intends to encourage a sustainable and inclusive economic growth that ensures full employment and decent work for all, especially in rural areas, as well as promoting partnerships between Italian and Ethiopian institutions to ensure the continuity of investments and the transfer of technologies.
UNODC, being an agency committed to inter alia, ending all forms of GBV against women and girls by 2030 in line with Sustainable Development Goal 5.2, has been supporting countries to ensure that this is done in a victim-centred manner. The support is in line with the updated Model Strategies and Practical Measures on the Elimination of Violence against Women (VAW) in the Field of Crime Prevention and Criminal Justice and other related international standards and norms.
Since 2019, UNODC has been implementing a Global Programme on Strengthening Crime Prevention and Criminal Justice Responses to Violence against Women, providing specific solutions that complement existing joint UN programmes and country-based projects. Its aim is to enable women who experience violence to rely on available, accessible and quality crime prevention and criminal justice responses in line with international standards and norms through: development of evidence base on criminal justice responses to violence against women, harmonization of national criminal legislation and policy frameworks on VAW with international standards, and enhancing the capacity of criminal justice systems to response better to VAW while providing essential services to victims and survivors.
UNODC's work in the area of VAWG in Ethiopia has comprised a host of activities, including but not limited to engagement in support of government policy development. This may include, for example, involvement in the consultation and eventual drafting of a National Anti-GBV Policy and engagement in strengthening capacity of law enforcement and prosecution personnel as well as university lecturers.
Through the new joint initiative, UNIDO and UNODC shall be tasked with the development of protocols for the prevention of GBV in the management and operations of the pilot IAIPs and contributing to the overall IAIP development programme in Ethiopia. The services will complement other on-going technical assistance activities aimed at promoting gender equality in the agro-industry sector, mitigating the risk of GBV, building resilience of women and other socially vulnerable people for their integration in the IAIPs, and adding value to tackle women insecurity from harassment and threat of physical and sexual violence in the agro parks. The tasks shall be carried out in 4 main areas:
Undertaking a review of national laws, policies and strategies, related to prevention of GBV to assess their suitability in preventing crimes against women in an industrial settings;
Supporting the crime regulatory bodies in the regions where the IAIPs are located in victim-centered responses to GBV in the IAIPs and RTCs;
Supporting the Regional Industry Park Development Corporations in developing operational guidelines in line with national laws and international standards to prevent GBV in the IAIPs;
Promoting access to information, resilience and empowerment opportunities within the wider IAIP and ACPZ (Agro Commodities Procurement Zone) to address the underlining conditions of GBV within the community in coordination with UNIDO and other partners.
UN entities involved in this initiative
UNIDO
United Nations Industrial Development Organization
UNODC
United Nations Office on Drugs and Crime