Story
International Day of Peace commemorated in Ethiopia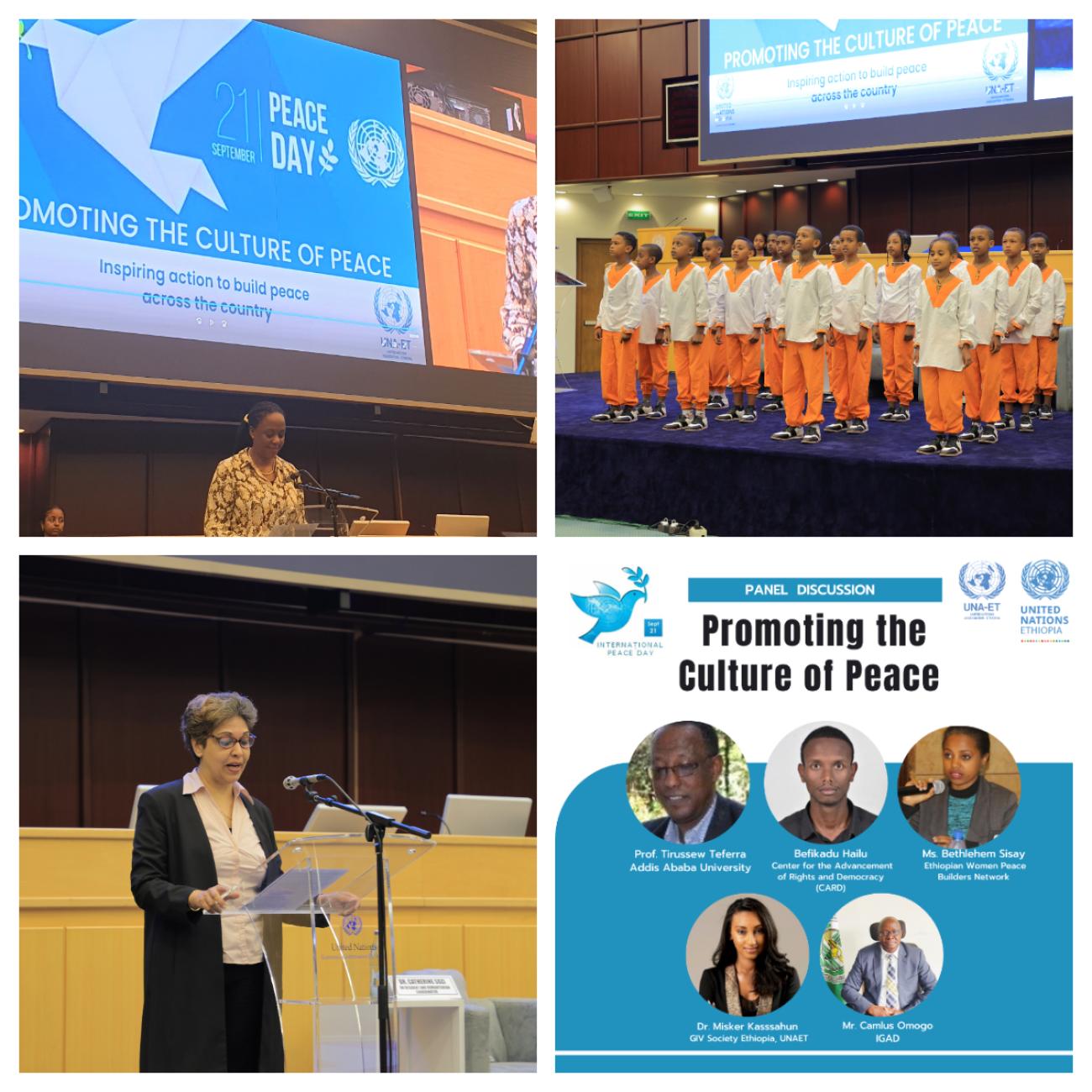 The International Day of Peace was commemorated in Ethiopia under the theme 'Promoting the culture of peace'.
The event brought together Heads of UN agencies in Ethiopia, representatives of civil society organizations, youth and women networks and other stakeholders to discuss a range of issues on promoting the culture of peace.
In her remarks at the commemoration of the International Day of Peace under the theme "Promoting the Culture of Peace", UN Resident and Humanitarian Coordinator for Ethiopia, Dr. Catherine Sozi, said, "Today, it is more important than ever to work for a culture of peace A culture of peace centred on human rights, justice and tolerance.."
"We must tackle the deep-rooted inequalities that work against dignity and opportunity for all. We need to invest in social cohesion, recognizing that diversity is a richness, not a threat," said Dr. Sozi.
Speaking at event, Dr. Rita Bissaoonauth, Director UNESCO Addis Ababa Liaison Office to AU and UNECA and Representative to Ethiopia, underlined that peace should never be taken for granted.
As we commemorate today, the International Day of Peace, we must note that a culture of peace is both a process and a product. It is a process of confidence-building and co-operation between peoples.
"It is an on-going process, a long-term goal which requires constant engineering, vigilance and active participation by all individuals. It is a choice to be made on each situation, an everyday life decision," said Ms.  Bissaoonauth.
"To be sustainable, peace must start with the dignity of every man and woman. It must be nurtured through the enjoyment of their rights and the fulfilment of their aspirations."
Mahder Dadi, program Director at Timran, a non-governmental organization that works to advance Ethiopian women's political and public leadership, noted the need ensure women's participation at all levels of a peace process such as negotiators, peacekeepers, observers and signatories.
"When women present in peace negotiations, they challenge norms and bring forth ideas and policy suggestions that would otherwise be ignored or forgotten," Ms. Mahder said.
Professor Tirussew Teferra of the Addis Abba University highlighted Ethiopia's policy initiatives related to peace education. Following the recommendation of the Ethiopian Education and Training Roadmap, the Ethiopian Government has incorporated a curriculum framework for moral and citizenship education for primary education, Prof. Tirussew said.
The event held at the UN Economic Commission for Africa, Addis Ababa, also saw a panel discussion on a range of issues. The topics at the panel discussion included: the role of education in promoting the culture of peace: opportunities and policy-level initiatives; countering hate speech and disinformation in the era of the digital media: opportunities and challenges; and role of women and youth in promoting the culture of peace in Ethiopia.
UN entities involved in this initiative
RCO
United Nations Resident Coordinator Office