Story
Pastoralists in Ethiopia find a cure for hard-to-reach veterinary services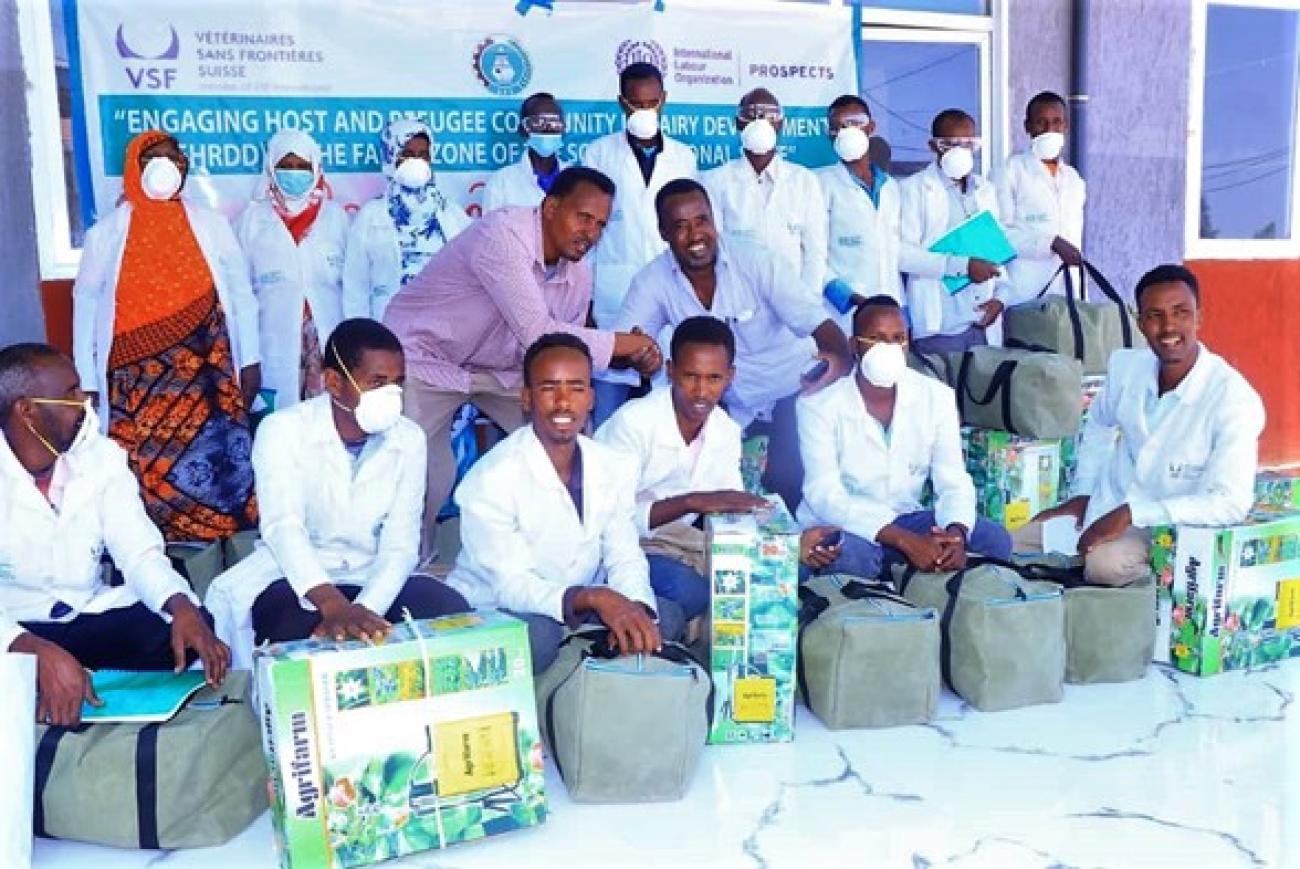 The pastoralist community in Ethiopia is finding a new hope with "Community Health Care Workers" trained by the ILO.
Struggling to access medical services for livestock, the pastoralist community in Ethiopia is finding a new hope with "Community Health Care Workers" trained by the ILO, who provide doorstep animal care services.   
Five of her goats falling sick in a day, created an unsettling situation for Howo Abdi, a 32-year-old dairy producer from Gerbi Kebele, which is located in Ethiopia's remotest Kebribeyah District of the Somali Region. Apart from the health of her livestock, what worried her the most was the expense of travelling to nearby towns of Kebribeyah or Jijiga to get a veterinarian service, which did not just mean additional spending but also losing out on her day's work.
While looking for a solution, she learned about a newly trained Community Animal Health Worker (CAHW), Shikuri Aidid, who had recently started visiting her Kebele. "I took my goats to Aidid and she was able to provide screening and diagnostic services, just like they have in the towns. Her fees were minimal," said Abdi. Enthused with the eased access to one of the most essential services for her business, she further availed vaccination service for nine of her cows from Aidid.
"I am praying that the services of Aidid continues and expand for our community. It is unimaginable for us to have a professional animal care support available at our doorstep all the time and at low prices," added Abdi with a content smile on her face.
Placement of Aidid in Gerbi Kebele is a result of the ILO and Vétérinaires Sans Frontières Suisse's (VSF Suisse) initiative called "Engaging Host Community and Refugees in Dairy Development" (EHRDD) developed under PROSPECTS Partnership. The initiative aims to strengthen actors across the dairy value chain including small-scale milk producers, dairy cooperatives, milk processors and traders, both in host communities and refugees in the Fafan zone of the Somali Region.
Jean Yves Barba, Chief Technical Advisor for ILO PROSPECTS in Ethiopia, explained, "ILO's baselines study pointed at the lack of the basic animal health service as a major impeding factor restricting growth of the dairy value chain in the region. In pastoral communities like Kebribeyah district, 80 per cent households live in the proximity of domestic animals, making them vulnerable to zoonotic diseases."
The Ministry of Agriculture (MoA) had identified CAHWs as an ideal solution to extend the last mile animal health services. Thus, in support of the Ministry, in June 2022, the EHRDD initiative stepped up to develop a network of CAHWs in Kebribeyah district. Through a rigorous selection process, 15 potential CAHWs, including 3 females, were selected to support five remote kebeles in the region and trained with the relevant manual.
"To ensure that the CAHWs initiate their services with immediate effect, they were provided with a start-up kit including necessary medicines and equipment. The response was overwhelming as within the first month of operations the CAHWs treated over 14,800 animals in five Kebeles. We have also linked them with the Private Veterinary Pharmacies (PVP) to ensure sustainable vet drug supply and continuation of their interrupted services," informed Eirmyas Kaase, National Programme Officer, ILO PROSPECTS, Ethiopia.
EHRDD technical staffs (livestock specialist) and the district pastoralist development offices are providing regular and periodic technical supports and supervisions to the CAHWs. "Efforts will be taken to integrate this intervention within the dairy value chain administration. We are planning to hold discussions with the Dairy Development Dialogue forums. By sustaining these CAHWs and scaling up training and support, Kebribeyah region can provide a model for increased high quality dairy production providing better livelihoods for hosts and refugees in the region," added Barba.
UN entities involved in this initiative
ILO
International Labour Organization