Story
Women call for an inclusive digital world to harness their potential, end online violence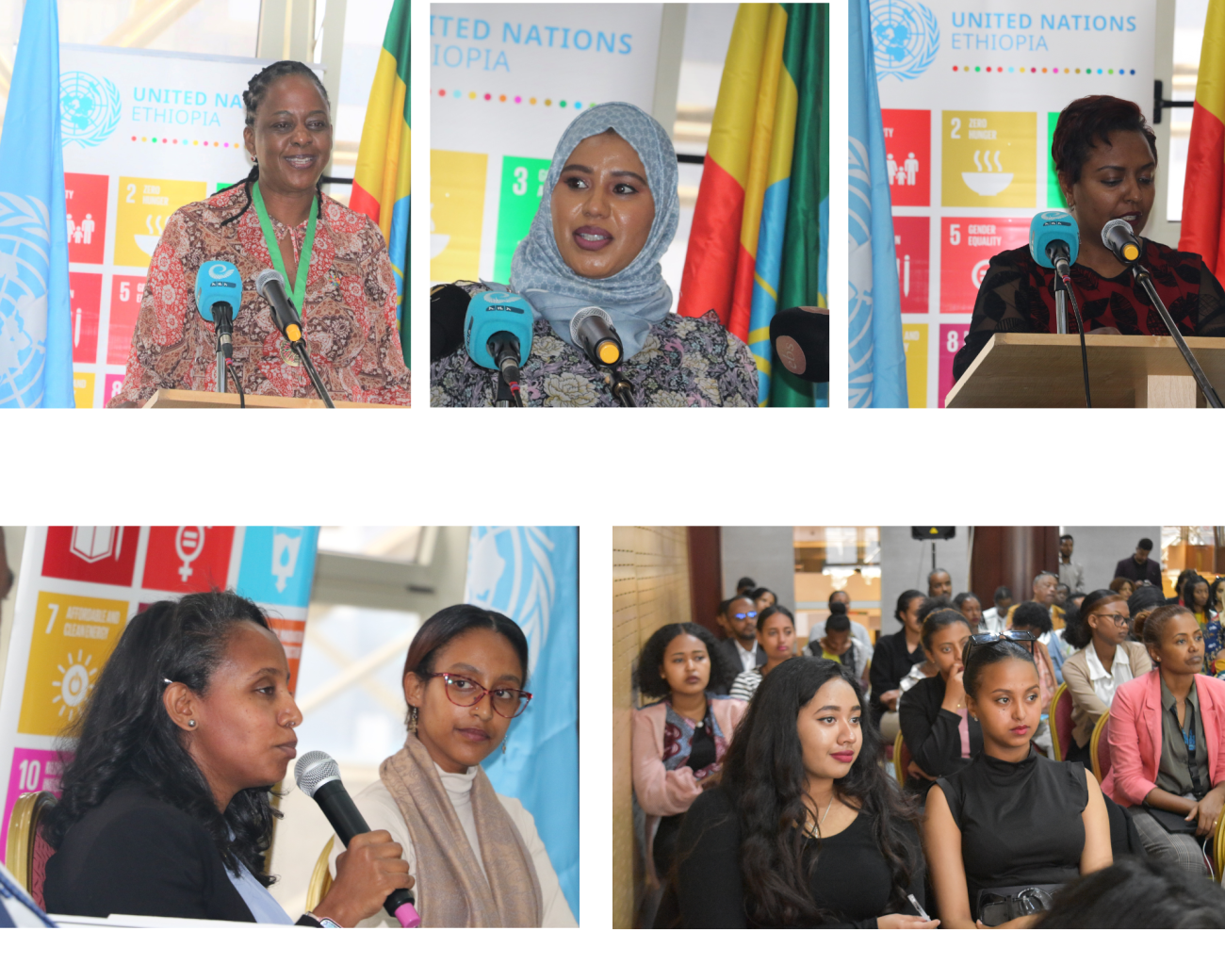 International Women's Day (IWD) was commemorated in Ethiopia.
Ethiopian women, who joined the United Nations to celebrate this year's International Women's Day (IWD), called for an inclusive digital world to give women and girls equal access to technology, to end technology-facilitated violence against women and girls and to close the digital gender gap.
The women urged government, the private sector, civil society organizations (CSOs), tech companies and the United Nations among others to reinforce efforts to ensure an equitable digital future for all girls and women.
The women made the call at panel discussions organized by UN agencies in Ethiopia to mark the IWD under the theme "DigitALL: Innovation and technology for gender equality"
The panel discussions jointly organized by the UN entities in Ethiopia brought together representatives of government, academia, the private sector, CSOs and youth organizations, among others, to discuss opportunities and challenges of utilizing innovation and technology for gender equality and women's empowerment.
Digital inclusion
Speaking at a high-level panel discussion held on 26 March 2023 to explore ways of making digital technologies and innovation inclusive of women and ending online violence, Ms. Rigbe Gebrehawaria, Commissioner for Disability Rights and the Rights of Older Persons at the Ethiopian Human Rights Commission, said, "digital technologies and innovations are not inclusive of women particularly those with disabilities."
"When we have some digital technologies that are tailored to people with disabilities, accessibility and affordability is always a challenge. Innovation and digital technologies should put people with disabilities at the center to harness their potential, address discrimination and ensure no one is left behind," Commissioner Rigbe said.
Cost of missing inclusion
The Alliance for Affordable Internet (A4AI), which is a global coalition working to drive down the cost of internet access in low- and middle-income countries through policy and regulatory reform, estimates that over the last decade, low and lower-middle income countries have lost a total of USD 1 trillion in gross domestic product (GDP) to the gender gap in internet use. This will surpass USD 1.5 trillion by 2025 if these countries continue to fail to close the gender gap in internet connectivity. 
In her remarks to the high-level panel discussion, UN Resident and Humanitarian Coordinator, Dr. Catherine Sozi, said, "When we fail to capitalize on the potential that gender parity in the digital economy can provide, we are not only failing those women and girls, but we are failing ourselves and creating more obstacles to realizing the SDGs."
Digital Ethiopia and gender digital divide
Digital Ethiopia 2025, Ethiopia's digital transformation strategy, recognizes that technological change has been the primary driver of social development and aims for all Ethiopians to benefit from and capitalize on the Fourth Industrial Revolution that digitalization has brought.
Still, in Ethiopia women face many challenges in making this a reality. As of 2021, women in Ethiopia continue to trail behind men in terms of fixed internet access, with 14% of women to that of 20% for male. Also, women's disproportionate presence in the informal economy in the country means that the 61% of working women are excluded from the benefits that the formal economy can provide, such as funding, training and access to digital networks.
While recognizing the opportunities offered by digital technologies in advancing participation and inclusion of women and girls in social, economic and political systems, Ms. Meskerem Geset, Commissioner for Women's and Children's Rights, expressed her concerns on the impact of digital gender divide.
"Digital technologies can exacerbate inequalities if women and girls do not fully participate in the digital world," says Meskerem.
"The gender digital divides may restrict women's participation in education, work, and social/welfare services as well as decision-making. This has huge implications on exercising women's basic rights."
Prof. Teketel Yohannes, Executive Director of Ethiopian Academy of Science, said the participation of women in science, technology, engineering and mathematics (STEM) is very low. He underlined the need revisit the education curriculum of the country in order to encourage and ensure the full participation of girls in STEM from their early years of education.
Prof. Teketel also recommended educational institutions such as schools and universities especially those providing STEM fields to embrace specific polices focusing on women and girls in general and women with special needs in particular.
Speaking at the panel discussion, State Minister of Innovation and Technology, Ms. Huria Ali, noted the challenges of ensuring inclusion of women in the digital age. "Women and young girls have limited participation both in the development/creation and use of different digital policies, products and services," the State Minister said.
She also pointed out that the Ethiopian Government recognized the challenges and began taking concrete action towards bridging the gap.
The State Minister said her Ministry is undertaking is the study of the digital gender divide that will serve as a steppingstone for the development of a national digital inclusion strategy.
"The study aims to understand the state of women and girls in terms of devise ownership, access to internet and access to critical digital services," she said.
"The strategy will identify major gaps and layout the national priorities and initiatives for bridging the digital divide and promote inclusion."
Dr. Sozi, outlined key actions needed to ensure inclusion and reap equal benefits in the country's digital transformation: digital literacy, affordability and accessibility, women's leadership and legislation.
"It is important for us to increase the role and visibility of women as technology creators and decision-makers and include them equally in the design, development, and deployment of technology that is better able to meet the needs of the whole of society," Dr. Sozi said.
"National laws and regulations should be revisited to ensure digital human rights are taken as seriously as the rights we are afforded offline."
Online violence
"Despite the benefit of being in digital spaces and using them to access information and voice their concerns, women and girls are facing different forms of online violence with worrying psychosocial consequences and leaving those spaces for safety and security reasons," said Yordanos Ashenafi, Founder and Director of Setaset Power, a group that advocates for the rights of women.
Technology-facilitated gender-based violence is a key factor restricting the online activity of women and girls and inhibiting their access to the internet.  It encompasses many forms, including intimate image abuse, doxing (the sharing of personal or identifying details), trolling (posting messages, images or videos and the creation of hashtags for the purpose of provoking or inciting violence against women and girls) and sharing of deepfake images. It also includes misogynistic or gendered hate speech as well as efforts to silence and discredit women online, including threats of offline violence.
"We need an aggressive approach to tackle online violence," said Yordanos.
Commissioner Meskerem also urged the need to introduce and revise laws and ensure accountability while using digital technologies in order to address the growing gender-based online violence which has its unique features.
"My Space! My Right! My Voice" 
The United Nations is committed to walking in step with Ethiopia on its digital transformation journey and to ensure that women and girls are not left behind.
This year the UN in Ethiopia developed a tagline "My Space! My Right! My Voice" for its campaign to promote women's right to equal representation and leadership in all designing, developing and using digital technologies and spaces as well as their rights to be protected from online violence.
The UN in Ethiopia partnered with the Great Ethiopian Run as a message partner on the annual 5km Women First Run that took place in Addis Ababa. This year race brought together 15,000 women participants from different walks of life who supported UN Ethiopia's message on digital safety and rights.
"It is the collective responsibility of everyone to ensure that digital truly is for all and that we can achieve the goals set forth by Digital Ethiopia 2025 to create new opportunities and benefits for the country through digitalization down to the very individual," Dr. Catherine Sozi.
"This is the Ethiopia we want, and the future envisioned in the 2030 Agenda for Sustainable Development"
Photos on UN Ethiopia's participation in the Women First Run 2023 to promote women and girls' digital rights and safety
Photos on panel discussions on opportunities and challenges of utilizing innovation and technology for gender equality and women's empowerment
UN entities involved in this initiative
RCO
United Nations Resident Coordinator Office