UN Resident and Humanitarian Coordinator Dr. Catherine Sozi presents credentials to Ethiopian Government
UN Resident and Humanitarian Coordinator Dr. Catherine Sozi presented her credentials to Ethiopian State Minister of Foreign Affairs H.E Ms. Hirut Zemene today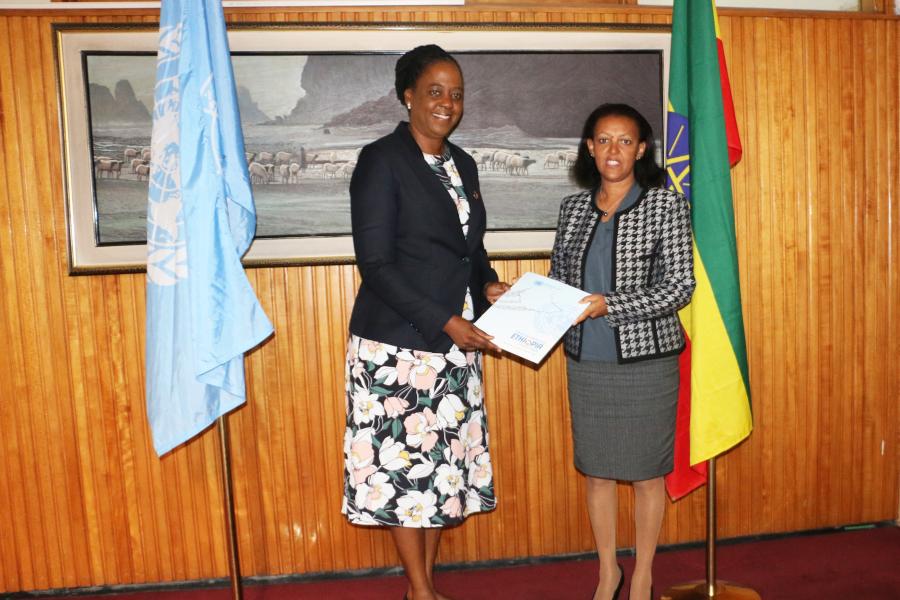 Addis Ababa:  UN Resident and Humanitarian Coordinator Dr. Catherine Sozi presented her credentials to Ethiopian State Minister of Foreign Affairs H.E Ms. Hirut Zemene today.
Dr. Sozi is appointed by the UN Secretary-General and is the highest-ranking representative of the UN development system at the country level. On behalf of the United Nations system she is responsible for the coordination of operational activities to support Ethiopia in achieving the Sustainable Development Goals.
"I am pleased to have the opportunity to represent the United Nations in Ethiopia at this momentous period when its people and the government are taking a new path to achieve lasting peace and sustainable development while laying down the foundation for stronger democracy," said Dr. Sozi.
She reiterated the commitment of the UN Country Team to fully align all its development activities to the priorities of the Government to ensure Ethiopia's continuous progress towards the 2030 Agenda.
Dr. Sozi has devoted more than 30 years to public service. She previously served as the Regional Director for Eastern and Southern Africa at the Joint United Nations Programme on HIV/AIDS (UNAIDS), working for 18 years as the UNAIDS Country Director for Republics of Zambia and South Africa and the People's Republic of China.  
Prior to joining the UN System in 2000, she worked with governments, the private sector and non-government organizations in the United Kingdom, Uganda and South Africa focusing on planning and delivering services to people.  
A medical doctor, she has Membership of the Royal College of General Practitioners in the United Kingdom and holds a post-graduate Diploma of the Royal College of Obstetrics and Gynaecology. She obtained her Bachelor of Medicine degree (MBBS) from Saint Mary's Hospital Medical School, University of London. 
UN entities involved in this initiative
FAO
Food and Agriculture Organization of the United Nations
IFAD
International Fund for Agricultural Development
ILO
International Labor Organization
IOM
International Organization for Migration
ITC
International Trade Centre
ITU
International Telecommunications Union
OCHA
United Nations Office for the Coordination of Humanitarian Affairs
OHCHR
Office of the United Nations High Commissioner for Human Rights
UNEP
United Nations Environment Programme
UN-Habitat
United Nations Human Settlements Programme
UN Women
United Nations Entity for Gender Equality and the Empowerment of Women
UNCDF
United Nations Capital Development Fund
UNCTAD
United Nations Conference on Trade and Development
UNDP
United Nations Development Programme
UNDRR
UN Office for Disaster Risk Reduction
UNESCO
United Nations Educational, Scientific and Cultural Organization
UNFPA
United Nations Population Fund
UNHCR
United Nations High Commissioner for Refugees
UNICEF
United Nations Children's Fund
UNIDO
United Nations Industrial Development Organization
UNODC
United Nations Office on Drugs and Crime
UNOPS
United Nations Office for Project Services
UNV
United Nations Volunteers
WHO
World Health Organization
Goals we are supporting through this initiative