UN General Assembly President engages in dialogue with young people on shaping the future
Prof. Mohammad-Bande and Dr. Sozi had the conversation with the young people in a school in Addis Ababa.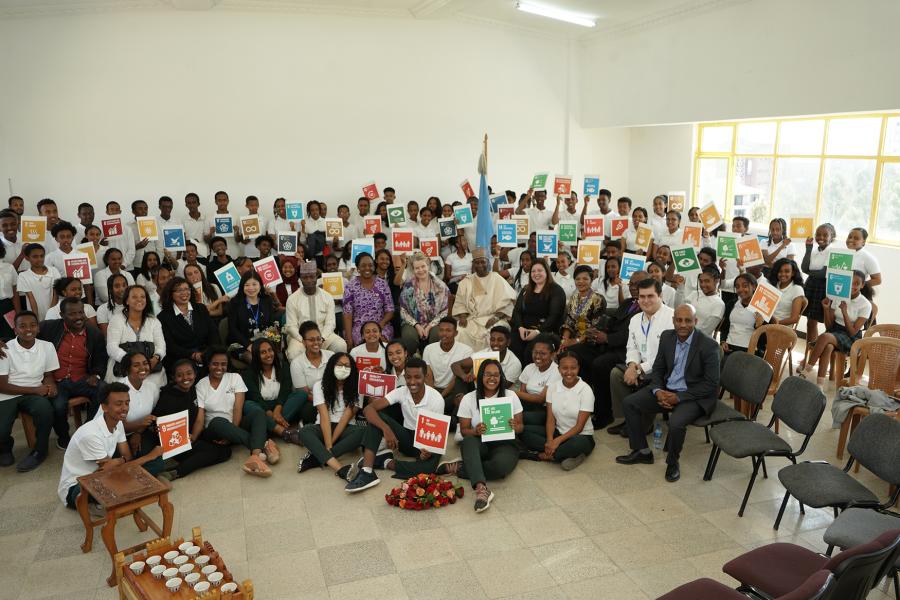 President of the UN General Assembly Prof. Tijjani Muhammad-Bande and UN Resident and Humanitarian Coordinator in Ethiopia Dr. Catherine Sozi engaged in a conversation with young people on "Shaping Our Future Together".
Prof. Mohammad-Bande and Dr. Sozi had the conversation with the young people in Andinet School in Addis Ababa. The students shared with them their perspectives on the current challenges and opportunities to make the world better.
Highlighting the challenges facing people in Ethiopia, 14-year-old Hawi Megeressa says her ambition to see an Ethiopia free from poverty. "There are many children who do not have access to food everyday and do not go school because of poverty," says Hawi.
Commending their active participation in the global conversation that seeks solutions for the global challenges, Prof. Mohammad-Bande told the young people to strengthen partnerships at different levels and promote the international cooperation.  
"For example, the coronavirus is not a Chinese problem, it is our human problem. We can only solve it through cooperation and solidarity," he said.
Dr. Sozi also underlined the vital role of the youth in voicing their issues and engaging actively in the efforts to transform their communities, country and the world.
The dialogue is part of the UN's 75th anniversary to hold the biggest-ever global conversation on how we can shape our future together. The UN is conducting a mass listening exercise to capture people's hopes and fears for the world, and to crowdsource solutions to global challenges.
We want to hear your views on how to tackle the biggest challenges of our time. Take the #UN75 survey here: https://un75.online
UN entities involved in this initiative
Goals we are supporting through this initiative